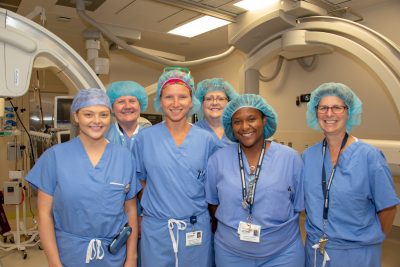 When the 26-year old man arrived at our emergency department he was suffering from an excruciating headache. A brain scan found the bad news, a lesion the size of a golf ball. It was causing serious damage and needed to be removed ASAP. But the next day was July 4th – a time for parades, picnics, and fireworks.
"We have limited staffing on the holiday but we all got together and said we're going to do it, we're going to get it done," says Ellen Benson, OR nurse manager. "It doesn't matter what day of the week it is. Health problems don't take a holiday."
The surgery was a complex, requiring special high-tech equipment and extra hands to support changing the position of the patient during the procedure. Along with the primary surgical team, the OR also had a back-up team ready in case another emergency procedure came in that day.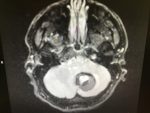 The procedure lasted from 8 a.m. to 3:30 p.m. and went off without a hitch. The patient had a great outcome and is recovering well.
"We continue to demonstrate that the OR team can step up to the plate and deliver the  best care possible, no matter what time of day or night it is," says Benson.
Along with Benson, the team included Agnieszka Korycki, ST; Cathy Spisak, RN; Marissa Knight, RN; Dale Keckley, PA-C; Marc Paradis, MD; Marek Pilecki, APRN; Misha Frenkle; and Ketan Bulsara, MD.
Staff who worked the day before the procedure also played a vital role. "They made sure we had everything that we needed so when we came in all we had to do was execute," explains Benson. "Lauren Walker, Renee White and Georgia Priestly set us up for success."