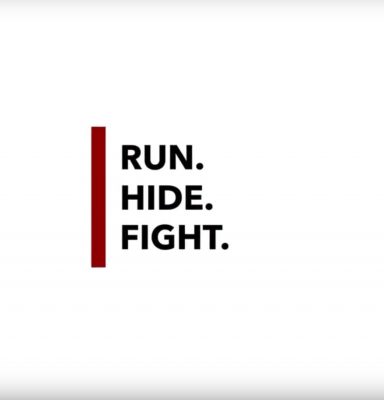 Last night's mass shooting at a bar in Thousand Oaks, Calif., may have you thinking about what you would do in a similar situation. UConn Police and law enforcement agencies across the country recommend escaping if you can, hiding if you can't, and fighting only if you have to. Or to put it more simply: Run, hide, fight.
The UConn Police Department's Safety Techniques and Awareness Resource Team (S.T.A.R.T.) offers programs that teach employees how to recognize the potential for violence, discuss realistic strategies during an active shooter threat, and help instill a survival mindset.
UConn Police Lieutenant Jason R. Hyland leads the Community Outreach Unit and says, not surprisingly, that following a mass shooting incident the number of requests for their programs increases. The Responding to an Active Theat: A Survival Mindset program is offered as a one or two hour presentation on a first-come, first-served basis. S.T.A.R.T typically presents around 60 of these free programs a year at UConn campuses throughout the state.
"Our educational programs lay a solid foundation to help employees and students increase their sense of safety and gives them a chance to think tactically if they find themselves in an active shooter situation," explains Hyland.
During their "Responding to an Active Threat" presentation, S.T.A.R.T. officers discuss pre-attack indicators and reporting behaviors of concern, as well as the steps you should take in an active shooter situation.
Run: Have an escape route and plan in mind; leave your belongings behind; and keep your hands visible.
Hide: Hide in an area out of the shooter's view; block entry to your hiding place and lock the doors; and silence your cell phone.
Fight: As a last resort and only when your life is in imminent danger, attempt to incapacitate the shooter; act with physical aggression and improvise weapons.
Hyland says their initial presentation can be followed with a second session in which the officers do a tactical walk-through of the employees' main work area and offer specific instructions on what best route for escape or places to hide.
"We know that a trained person experiences less stress in these situations," says Hyland. "They can focus on strategies of escape and survival while others may panic and freeze in disbelief. Our program offers an in-depth look at the physiological and psychological effects of a lethal threat situation. We then discuss methods to overcome these natural reactions and increase our survival mindset." Hyland also recommends visiting the UConn Office of Emergency Management website for additional information and downloadable content.
If your group or department is interested in hosting a program, complete the online request form and a S.T.A.R.T. officer will work out the details with you.