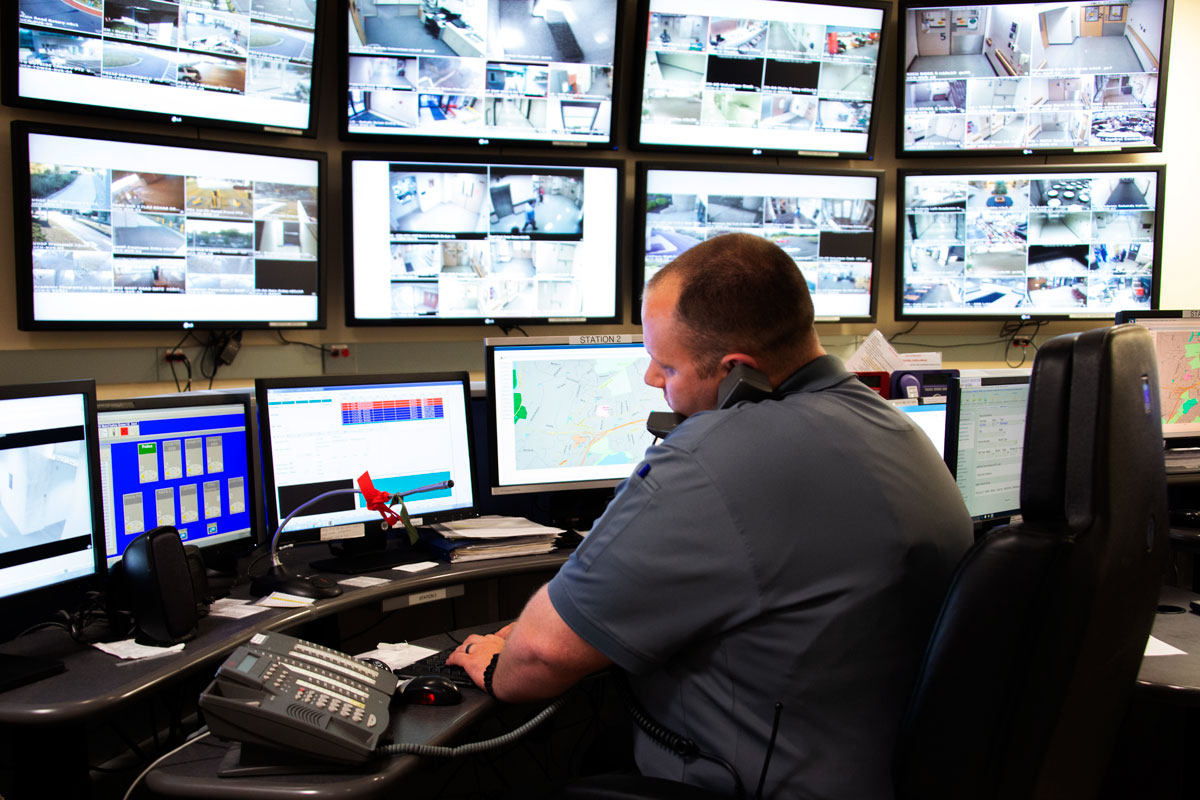 Our UConn Health dispatchers answer hundreds of calls each day – some of them routine – such as vehicle jumpstarts or door unlocks – others are a matter of life and death. One recent incident called special attention to the great work they do when Buildings and Grounds Patrol Officer Kevin Cabelus kept a distraught, suicidal former patient on the phone talking while dispatcher Stephen Ferraro figured out his identity and location. They contacted local police who rushed to the man's home and found him clinging to life. Their fast action is credited with saving the man's life.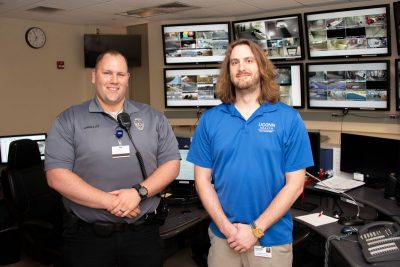 The Pulse wanted to learn more about our dispatch services here at UConn Health so we asked Stephen and Kevin to answer a few questions about the important service they provide.
How many dispatchers work at UConn Health?
UConn Health currently has five full-time dispatchers. There are 10 Buildings and Grounds Patrol Officers (BGPO) in the department who are also trained in dispatch to fill in absences on any shift as needed. There is always someone on duty – whether it is a dispatcher or a BGPO – our emergency and routine lines are always monitored by trained staff on campus.
What kind of training does it require?
The full-time dispatchers are sent to the same training course that municipalities send their dispatchers. We also take a course to be certified in COLLECT which is the Connecticut database for accessing everything from driver and license plate information, to stolen cars and wanted or missing persons nationwide. Additionally, dispatchers have specialized training opportunities in active shooter, crisis intervention, self-defense, and radiation. We are also CPR certified.
What types of calls do you receive?
Typical emergencies, such as medical/injury calls, car accidents, thefts, and personnel disputes and routine calls, such as people needing directions or escorts, vandalism, door unlocks, vehicle jumpstarts, wildlife reports, or just anything that people need to know and don't know who else to ask. Though we strive to help everyone as soon as they call, you may be put on hold for an answer to your routine question when something of an emergency nature is on the other line. We appreciate your patience!
What is the most common call you receive?
This will vary by shift, but because I work at night we do a lot of unlocks in the building and escorts for employees after shuttle service stops. We also have a lot of calls for patients who are disruptive or combative. I send BGPO's and police officers there to mitigate and isolate these threats and keep staff and the other patients safe and comfortable.
How is it different working here versus a town or city police dispatch?
Basically all the same things that occur in a town can and do occur here on campus at some point. The biggest technical difference is that we do not answer 911. While we have our in-house emergency line, only so many 911 centers are authorized by the state. Since we're located in Farmington, 911 calls go there initially. If a call is pertaining to our campus, it will be transferred back to us when necessary. In terms of call handling, a big difference is that we are customer service oriented. Whether it's a call from an employee or one of our many patients and visitors – we are here for everyone, to keep them safe and do what we can to help while they learn, teach, work, heal, grieve, or celebrate life.
Why did you want to become a dispatcher?
Stephen: Being a dispatcher is a great way to help people, which I enjoy being able to do as a career. What led me to this position was a background in volunteer firefighting, giving me experience on the other side of the radio. I had already worked at UConn Health in Nursing Transportation so when this position became available I was very eager to jump at the opportunity to do something I love at a place I'd grown to love as well.
Kevin: I chose public service because I knew at a young age this is what I wanted to do. There are a lot of police officers in my family so it felt natural to get my college degree in criminal justice. Helping people is what I enjoy and there's no better way to do that than with this career. When you go into any type of law enforcement or public service you build a bond with co-workers that is very strong because you depend on each other every day. For example, the call that Steve and I had, we've worked together for a little over 3 years now so when that call came in we knew what the other person needed to make that call successful. When you work with people like Steve and you mesh well together, it makes your shift and career a lot easier.
Any calls that really stand out for you and the dept.?
Collectively all of our dispatchers do great work handling serious calls, they've had accidents, they've had casualties, they've had people running around with weapons or being aggressive on drugs, they've had fires and gas leaks… It's our job as dispatchers to quickly bring about resolution and minimize the impact these incidents have on those involved and the rest of the important things that go on here at UConn Health. Doing so, alongside our excellent team of firefighters, paramedics, police officers and BGPO's, has been as much of an honor as it has been working with the other dispatchers here at UConn Health.
---