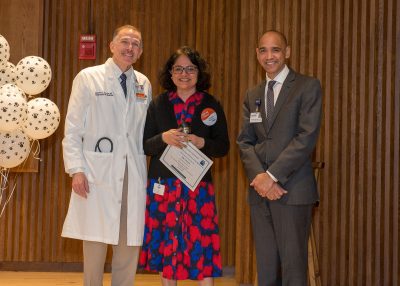 The cheers were loud when Alka Sharma was presented with a PAWS Award this spring. It's a testament to the numerous colleagues who understand and appreciate her contributions, particularly to the transition to our new electronic health record, UConn HealthONE. Alka is an application architect in the Information Technology Department who, among other things, was instrumental to the technical dress rehearsal, or TDR—the testing of the functionality of every work station that would use HealthONE to ensure device compatibility. She lives in Southington.
Describe the HealthONE journey and your role in it?
My HealthONE journey has been fun. It has included many highs, a few lows, and more than a couple unexpected twists and turns. I have learned many valuable lessons and insights about myself, my abilities, and most importantly, my true potential.
I have been fortunate enough to work under four different chief information officers. Each of them saw some kind of potential and assigned me challenging and high-profile projects. I remember talking to Bruce Metz, our current CIO, and asking to lead "Technical Dress Rehearsal" (TDR) alongside project manager Dean Moroniti.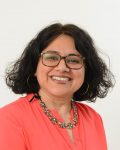 Alka Sharma
Favorite movie:
"The Emperor's Club" with Kevin Kline
Favorite holiday:
Thanksgiving—John and I cook for the entire family and they enjoy each and every dish!
Favorite place to visit:
California
Famous person you'd most like to meet:
Michelle Obama… and I'd really love to have lunch with Dr. Andy one day.
Something about you today that your younger self would never believe:
I would play a key role in an Epic implementation for a hospital.
Bruce brought a unique perspective to my personal and professional development and his wisdom pushed me to see things about my own leadership capabilities and aptitudes that I had never seen, fully appreciated or understood in myself before.
I report directly to AVP of Strategic Projects Rob Darby, who is clearly interested in helping me grow as an employee. I continue to emulate his energy, expertise, and vision for UConn. Rob has also provided me many opportunities to grow in my role. He empowers me to make decisions in my current role and is open to new ideas. However, my thirst for learning and passion for work makes Rob's job a bit difficult.
What is your assessment of how we're doing with HealthONE so far?
Our go-live (April 28) was very successful. Our open ticket rate was below 20 percent after five weeks. I think we are doing great. HealthONE's success is largely a collaborative effort from all of the HealthONE analysts, who deserve recognition as well.
What was your reaction to being honored with a PAWS award this spring?
I was overwhelmed and humbled by the nomination from [application analyst] Cori Brown. It's a great feeling to be recognized by your peers. It was a busy month as we were preparing for go-live, yet a lot of people showed up to support my nomination, which made it even more special.
How would you describe the changes you've seen at UConn Health since your arrival here?
All the changes that I have witnessed in IT have been very positive, specifically the decision to move to our integrated system, HealthONE. Some folks have left but new people joined, bringing fresh outlook to technology and research, and they have made transformative changes to enhance patient care.
Personally, I love change because it gives one an opportunity to learn, unlearn old things and relearn new things.
What do you like to do when you're not at work?
I like to watch inspirational videos on YouTube and love ironing to de-stress.