Please note the following advisory from the Farmington Police Department:
On Friday, Nov. 10, daytime paving will be conducted at the South Road and Two Mile Road roundabout. Paving is scheduled to occur between 7 a.m. and 7 p.m. Significant delays are expected, and motorists are strongly encouraged to avoid the area. To facilitate the paving, the following detours and road closures will be put in place: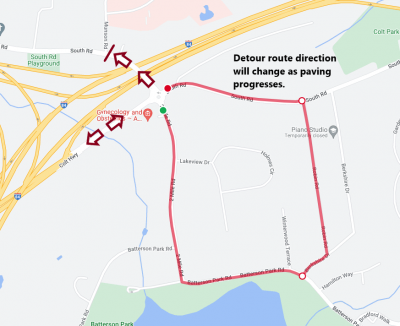 South Road at Munson Road will be closed to southbound traffic during the duration of work.
The Two Mile Road roundabout entrance will initially be closed. Traffic will be detoured to Batterson Park Road to Robin Road and then onto South Road.
As paving progresses, the Two Mile Road detour will be reversed. South Road will detour to Robin Road to Batterson Park Road and then to Two Mile Road.
Colt Highway (Rt. 6) will remain open throughout the work.
Traffic will be alternating through the roundabout.
Detour signs will be in place along with officers to direct traffic.
The extended work hours will allow the paving to be completed in one day, minimizing the overall inconvenience to motorists. We thank the public for their understanding and patience with this project.