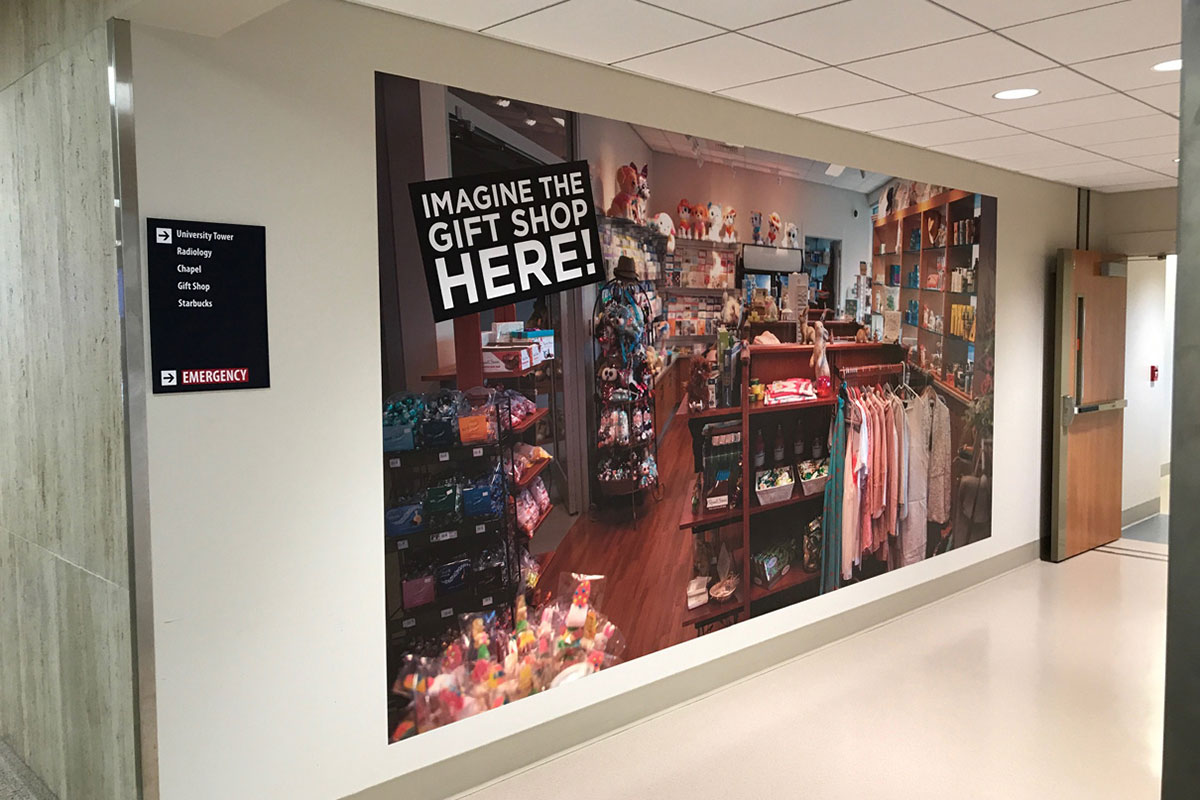 Picture the Connucopia Gift Shop celebrating its 45th anniversary next year by opening its doors amid heavy foot traffic in the heart of UConn Health's main building.
Now, picture UConn Health with no gift shop at all.
A bustling gift shop historically is a key part of the culture of a successful hospital. But the gift shop at UConn Health is far from bustling. Sales have dwindled since its relocation to the University Tower mezzanine in 2016. This leaves the shop – and the UConn Health Auxiliary, which operates it – with a tenuous future.
The Auxiliary, which celebrates its 50th anniversary in May, has been a steady contributor of funding and programming to UConn Health for most of its history. UConn Health has the Auxiliary to thank for:
The Creative Child Center (originated as an Auxiliary program in 1977)
The UConn Health Art Collection (began as an Auxiliary program in 1979)
Scholarships and travel funds for medical, dental, public health and nursing students
The Dr. Jay Healy Endowed Chair in Medical Humanities and Bioethics
More than $9 million in financial support directly to the institution
A thriving gift shop made it possible for the Auxiliary to support the institution in these and other ways. To stabilize the Auxiliary's future, the gift shop would need to thrive once again. The mission now is to find prime real estate – and the funding to build and relocate.
Today, the Auxiliary is asking for your support, working with the UConn Foundation toward a goal to raise $150,000 to move to a more prominent location.
In its heyday, conspicuously situated in the front lobby of the main building, the gift shop was the known go-to place for staff, patients, visitors, and students to pick up cards, flowers, snacks, and last-minute gifts, all tax-free. (Gift shop purchases are exempt from Connecticut sales tax because of the affiliation with the Auxiliary.)
The new target space abuts the heavily traveled corridor leading to the Food Court, between the Radiology Department and the hallway that connects the main building to the University Tower.
Walk from the Food Court toward the University Tower and you'll notice signs designed to catch the eye of passers-by and help them envision a new shop in this location.
The fundraiser debuted with UConn Gives 2019, March 27 and 28. Together, we can keep the gift shop open and restore the success of the past – all in a new location that would drive business and enable the Auxiliary to thrive again! Make a donation today and watch for more information on how you can help in the weeks to come.