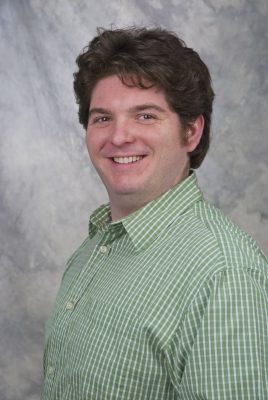 UConn graduates in biomedical sciences are thinking outside of the academic/tenure track box and considering alternative career paths. Ph.D.s are finding unique ways to apply their scientific skills in government, pharma, industry, business, as well as law. Brittany Knight, Biomedical Sciences graduate student, interviewed recent graduate John Wizeman, Ph.D., about his choice to pursue intellectual property law.
Patent law is an area of the greater field of intellectual property law (IP), which also includes trademarks, copyrights, and trade secrets. Patents provide exclusivity for inventors which can allow individuals to earn recognition or financial benefit from what they invent or create while encouraging creativity and innovation for public interest. In the last few years, patents in the biomedical sciences have earned a lot of attention. One example is the long-standing dispute over the IP rights to the revolutionary gene-editing technology known as CRISPR.
Wizeman initially learned about careers in intellectual property during a seminar coordinated by the graduate school. Cambria Alpha-Cobb, a technical specialist from Dilworth IP in Trumbull,  came to UConn and discussed the field. Wizemen says he would not have known about this potential career avenue without UConn setting up the seminars.
Anthony Sabatelli (Yale Ph.D. 1984, chemistry) a firm partner at Dilworth IP, created the internship program in 2014 to provide "meaningful real-world experiences" for Ph.D. students considering non-academic careers. The position at the firm is referred to as a Technology Specialist which allows interns to research the technical and legal aspects of IP-related cases, as well as publish articles on Dilworth's IP online blog. Under the supervision of Sabatelli,  Wizeman published two articles on Dilworth IP's blog, one of which was picked up by "Patent Docs" – a patent law weblog for attorneys.
Since 2014, several Yale alumni have utilized the internship to pursue law degrees, technology specialist positions in law firms in the Boston-area, as well as to attend law school in New York City.  One student even used the position to eventually transition to a career in scientific publishing.
"Based on connections with graduate students at both UConn and Yale, we decided to run an experiment at Dilworth IP to bring in a graduate student in the latter phase of their Ph.D. program – either in chemistry or one of the life sciences – to give them an opportunity to see what a career in patent law entails," said Sabetelli.  "In structuring the program, we realized for it to be mutually beneficial for both the student and Dilworth IP, it would have to be more than just a mere shadowing opportunity. We would have to provide the student with actual projects and provide them with opportunities to interact with other colleagues in the firm and even, as appropriate, with clients. The opportunity that we came up with is one of Technology Specialist where the student can research both the technical and legal aspects of various intellectual property-related projects in our law firm.  As seen from the track record of the students coming through our program, it has given them a meaningful leg up making them highly competitive in the job market."
In the Biomedical Sciences program, Wizeman completed his doctoral work in the lab of Royce Mohan in the Department of Neuroscience. He studied a form of vision loss that is prevalent in older individuals, called age-related macular degeneration (AMD).  "UConn was helpful in not only exposing me to this path, but to prepare me as well," said Wizeman. "The training I received in the neuroscience department helped keep me knowledgeable about a wide range of scientific disciplines, as well as the newest and most groundbreaking research. I'm excited to bring this training to my new position."
Students in graduate programs, such as those in the biomedical sciences, develop a broad skill set including comprehensive understanding of subject matter, oral and written communication, time management, project management, data analysis, and critical thinking. These skills, apart from wet lab or bench science techniques, are organic products of intellectual rigor and scientific discovery.
Wizeman adds, "This internship has given me an opportunity to work on my writing as well as introduce me to the IP field. Under Anthony Sabatelli's guidance, I have been able to write several articles for the Dilworth blog. This experience helped me understand the field and find a position as a Technical Specialist for Lathrop and Gage, where I will begin an IP career in the coming weeks."
"The program has truly been a win-win for both the students and Dilworth IP," said Sabatelli. "The students have had a great learning experience while we have benefited from their help on numerous projects. Students like John that are taking the opportunity to learn about patent law, as well as other fields, are helping to strengthen the collaboration across universities and businesses such as UConn, Yale University, and Dilworth IP, which has been shown to be mutually beneficial."
---