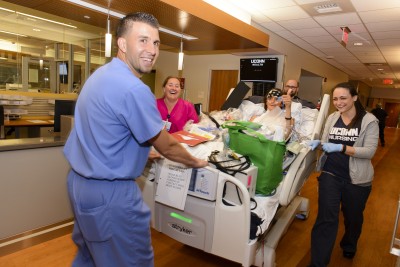 After three years of building and more than 2,000 construction jobs, move-in day arrived at the new UConn John Dempsey Hospital tower Friday morning.
It started at 5:16 a.m. with the opening of the Emergency Department, and an hour later the new ED's first patient arrived.
Meantime a carefully orchestrated plan to safely move 70 inpatients from the old hospital tower to was underway.
"If we continue at this pace, we'll be done before 1 o'clock," said hospital CEO Anne Diamond at about 7:45.
She was right. The last patient was in place shortly after 11:30.
"It was truly an amazing experience," Diamond says. "We all had opportunities to talk to patients and really see what their reaction was as they moved into the new space, and it has just been so rewarding."
"This facility is beautiful," says nurse Sarah Higley, who now works on the 5th floor in the new tower. "The floor is brand new, all the rooms are private, all of the equipment that we have is brand new. Things are going to work a lot better. I was on Surgery 7 for a long time –I worked there as a student, as an aide, and as a nurse – so I'm very familiar with that floor, that floor is my home. And I'm very excited to call this floor my new home."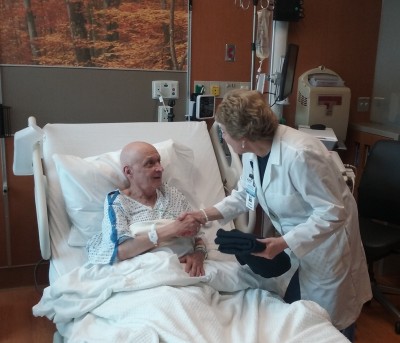 One of the first patients moved to Higley's floor was Dr. Michael P. Kruger, a graduate of UConn's orthopedic residency program in the mid-80s.
"At the time, the hospital was state of the art, and I was well aware of the capabilities of it and the niceties of it," Kruger says. "But now, moving into this facility, going from semi-private to private rooms, it is a big change. Having a facility where you do get the privacy – when doctors come in to talk to me, I don't have to share the information with the guy next door – it makes a big difference on how I think you recover and how the outcome's going to be."
The 11-floor tower has 169 single-occupancy rooms for enhanced privacy and infection control, and features artwork and natural light.
"This building is a lot more conducive to healing," said nurse Katelyn Putney after checking on a patient who'd recently moved to the new 6th floor. "It's brighter, with more open space, and the communications systems we now have are more advanced and better for patient care."
"It looks beautiful, it looks cheerier. It doesn't look like a hospital," said patient Jennifer Boutin shortly after being relocated to her room on the 6th floor. "Everything looks so brand new, everything looks great."
About 90 minutes after the last patient was moved, asked about the hospital's readiness for a full opening to the public, Diamond said, "100 percent. We're ready right now."