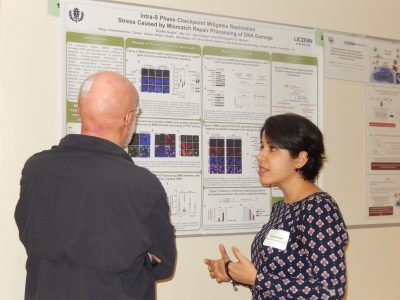 By Stephanie Rauch, Biomedical Science Program Coordinator
Tucked away in their labs, researching and studying, Biomedical Science graduate students on the UConn Health campus can be easily overlooked. But at the 35th Annual Graduate Student Research Day held on June 26, graduate students from the PhD program, as well as combined degree programs and other graduate degrees across the campus, had a chance to bring their hard work out into the light, celebrating their research achievements and inspiring each other to continue working to discover the next pieces of complex biomedical puzzles.
The day-long event included poster and oral presentations by graduate students, a scientific talk by 2017-18 Lepow award winning student Ashley Russo (Immunology AoC, Rathinam Lab), and a keynote address by invited speaker Christine M. Disteche, Ph.D., director of the University of Washington Regional Cytogenetics Laboratory, professor of pathology, University of Washington. She spent the day interacting with over 30 students during their presentations in the Academic Rotunda before her own talk, "3D Structure of the Inactive X Chromosome and Role in Sex Differences."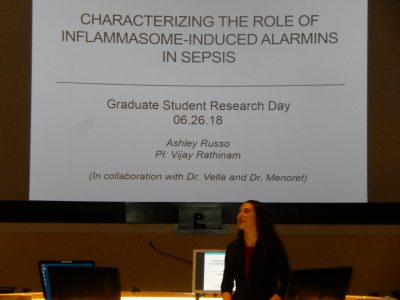 "As graduate students at UConn Health, we are the basic science behind our mission of "the power of possible," said third-year neuroscience student and Leadership Award winner Robert Pijewski.  "A day such as Graduate Student Research Day really highlights what the graduate program at UConn Health is all about. The student's passion, creativity, and hard-work was truly showcased in what was an informative event."
The day ended with an awards ceremony recognizing a wide variety of students for their achievements throughout the year.
Henderson Memorial Prize for Outstanding PhD Thesis in Biomedical Science: Dr. James Fink, Neuroscience AoC, Levine Lab
Lepow Award for Outstanding Rising Fourth Year Biomedical Science PhD Student: Andrea Wilderman, Genetics and Developmental Biology AoC, Cotney Lab
Biomedical Science Program Service Award for Mentorship: (tie) Dipika Gupta, Molecular Biology and Biochemistry AoC, Heinen Lab and Brittany Knight, Neuroscience AoC, Baumbauer Lab.
Biomedical Science Program Service Award for Leadership:
Robert Pijewski, Neuroscience AoC, Crocker Lab
Raisz Award for Excellence in Musculoskeletal Research: Henry Hrdlicka, Skeletal Biology and Regeneration AoC, Delany Lab
Oral Presentation Award: Moriah Gildart, Cell Biology AoC, Dodge-Kafka Lab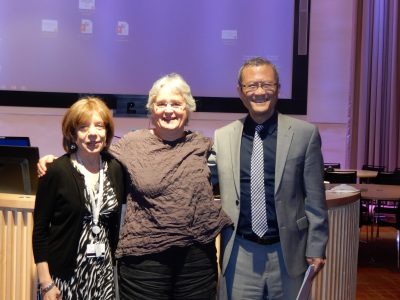 Poster Presentation Awards:
1st Place:
Valentina Baena, Cell Biology AoC, Terasaki Lab
2nd Place:
Gabrielle Valles, Molecular Biology and Biochemistry AoC, Bezsonova Lab
3rd Place (Tie):
Dipika Gupta, Molecular Biology and Biochemistry AoC, Heinen Lab
Katherine DiScipio, Molecular Biology and Biochemistry AoC, Weller Lab
In addition, two faculty awards were announced, including the inaugural Dean's Award for Excellence in Research Mentoring presented by the Dean of the School of Medicine, Dr. Bruce Liang.
Dean's Award for Excellence in Research Mentoring: Dr. Laurinda Jaffe, Cell Biology AoC
Osborn Award for Excellence in Biomedical Science Graduate Teaching: Dr. Phillip Smith, Neuroscience AoC