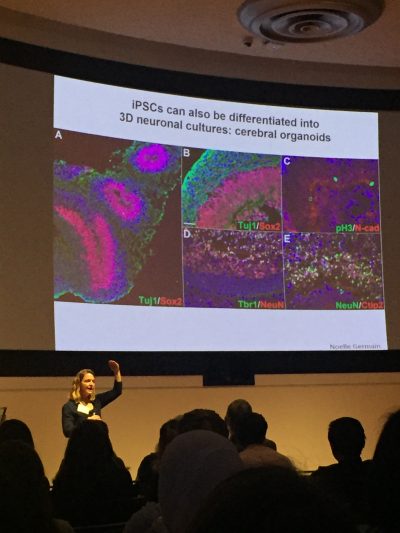 By Biomedical Sciences Ph.D. candidate Brittany Knight and JSHS  event organizer
For the second year in a row, UConn Health hosted the statewide competition of the Junior Science and Humanities Symposium (JSHS).  This year around 200 students, teachers, and parents representing 40 schools took part in the all-day conference. It's designed to provide high schools students with a forum to share ideas about how to solve real world problems with STEM education. STEM stands for science, technology, engineering, and mathematics which are all essential to the future of our technology-driven world.
In preparation for the competition, students submitted research proposals several months in advance that recognized a significant problem pertaining to human affairs. About 80 proposals were then rated by a panel of professionals in STEM science to be presented as oral or poster presentations. Needless to say, the scientific merit and rigor that went into these projects exceeded expectations and it was challenging to decide which projects were to be a part of the competition.
The symposium included a keynote presentation by Stormy Chamberlain, an associate professor in genetics and associate director of the Genetics and Developmental Biology Graduate Program at UConn Health. Her talk focused on her research using induced pluripotent stem cells (iPSCs) from patients with Angelman syndrome, Prader-willi syndrome, and 15q duplication syndrome.
Following the keynote, students were divided into groups to present or attend the poster and oral presentations. Students were also given the opportunity to attend a career panel session with young professionals in social work, nursing, pharmaceutical science, medical science, research, public health, and dentistry. Students asked the panel questions pertaining to career motivations, challenges with career decisions, college or high school course preparation, internships, college planning, loans, etc.
Another option for students was touring some of our research labs, including the virtual anatomy lab, to participate in hands-on activities and learn about the exciting research being done here. Graduate students in the Biomedical Sciences Ph.D. program, including Matthew Sticco (Neuroscience), Nicholas Wasko (Immunology), Rajamani Selvam (Neuroscience), and Shubham Khetan (Genetics) led the tours. They each created a short module that consisted of hands-on activities as well as career advice for students interested in pursuing a career in research.
At the end of the event, top presentations were announced. The effort and scientific merit that went into this year's projects was nothing short of amazing. It's important to note that last year's first place national winner was one of Connecticut's JSHS winners last March.
JSHS is nationally organized by the Academy of Applied Sciences with sponsorship from the U.S. Army, Naval, and Air Force. Connecticut's program would not have been made possible without the dedication of Connecticut Area Health Education Center Network (AHEC) and the staff at UConn Health. We wish the best of luck to the five Connecticut representatives at the national competition in May.
---