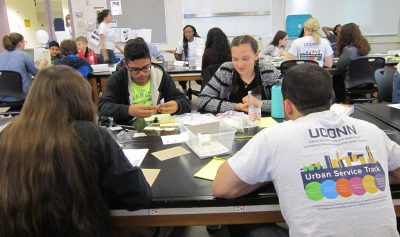 By Brittany Knight, Ph.D. candidate in Biomedical Sciences
The Connecticut Area Health Education Center (CT AHEC) Biomedical Education Discovery Saturday Program at UConn Health teaches middle- and high-school students about the use of biomedical engineering (BME) in health care.
Through the use of problem solving, team development, and hands-on application, students and coaches use recycled materials to design and build biomedical prototypes such as hydraulic arms, heart valves, and prosthetic legs, all the while considering the possibility of careers in health and BME.
Urban Service Track/AHEC scholars (a select group of students enrolled in UConn Schools of  Dental Medicine, Medicine, Nursing, Pharmacy, Social Work, and Quinnipiac University's Physician Assistant Program) serve as BME activity coaches.
On a recent weekend, the BME activity was heart valve engineering. After teaching 24 learners about heart valves and blood pressure, the UST/AHEC scholars guided them to design and construct a heart valve facsimile.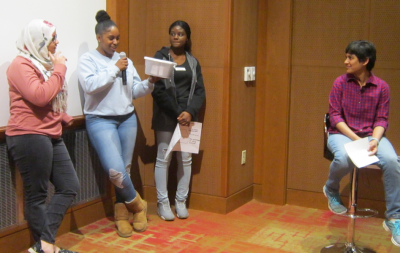 During the competition portion of the activity, Rajamani Selvam, fourth-year Biomedical Sciences Ph.D. student, served as a "shark"- just like on the show Shark Tank where inventors pitch their ideas to potential investors. Rajamani used her critical thinking skills to assess the quality of projects. She asked the teams questions about their heart valve: What materials did they use to make the valves? How long will a surgeon require to implant the valve? How durable is the valve? Can the valve withstand any strenuous activity? Learners often replied with a combination of factual and intentionally comical responses, considering their heart valves were constructed from recycled materials.
Rajamani said, "Some students get very creative in their pitch. For instance, one group proposed that they are a foundation of people working to address heart problems and this valve is affordable for all sectors of people, saying: 'We are motivated to form this foundation to help other people who suffer from this ailment.' I saw valves made of balloons, cardboard and clear tape."
At the end of the competition the teams are scored based on the design of their valve as well as the effectiveness of their valve.
The final BME activity for the academic year—on the topic of prosthetic legs—will be held on June 2.
---