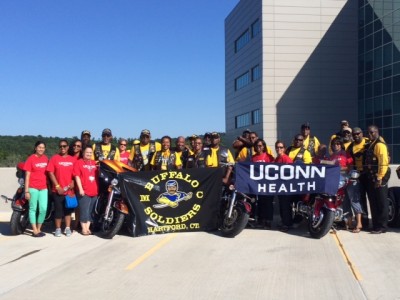 Sickle cell disease (SCD) is an inherited blood disorder that can cause severe pain and permanent damage to the brain, heart, lungs, kidneys, liver, bones and spleen. SCD is most common in Africans and African-Americans, however, it is also found in other ethnic and racial groups, including people from South and Central America, the Caribbean, Mediterranean countries, and India.
Individuals who have SCD need multidisciplinary care throughout their lives to treat and prevent complications from the disease and manage their pain. Most institutions provide only pediatric sickle cell treatment. At UConn Health, Dr. Biree Andemariam, assistant professor of medicine, is among a small number of physician-scientists nationally who specialize in caring for adults living with SCD. She leads the only comprehensive adult sickle cell program in northern Connecticut. The team-based approach includes a multidisciplinary team of doctors, nurses, social workers, and community-based patient navigators working together.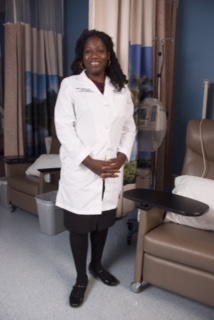 The New England Sickle Cell Institute (NESCI) attracts patients and families from across Connecticut and beyond. NESCI is also home to basic, translational, and clinical research aimed at elucidating basic mechanisms of the disease and developing novel therapeutic options for this orphan disease. NESCI's success rests in its unique, heartfelt dedication of it's staff: nurse coordinator Nayre Greene, social worker Teresa Works, infusion nurse Ruby Faye Noviasky, medical assistant Iris Reyes, clinical research assistant Sasia Jones, in addition to its newest member, nurse practitioner Mary Samson.
"The New England Sickle Cell Institute provides a full range of comprehensive care that focuses on prevention as well as acute care," says Andemariam. "We are the only site in the region to offer erythrocytapheresis, a procedure commonly used to remove red blood cells in patients experiencing sickle cell crisis," added Andemariam. "The support of the Neag Comprehensive Cancer Center, John Dempsey Hospital and UConn School of Medicine has been instrumental in our ability to provide desperately needed care for a long-neglected subset of our community. This is evidenced by newly designated space to provide dedicated acute and chronic disease management. With this support, the future of adults living with sickle cell disease is bright."
For more information or to schedule an appointment, call 860-679-2100.
---