Dozens of women to benefit from gift to UConn Foundation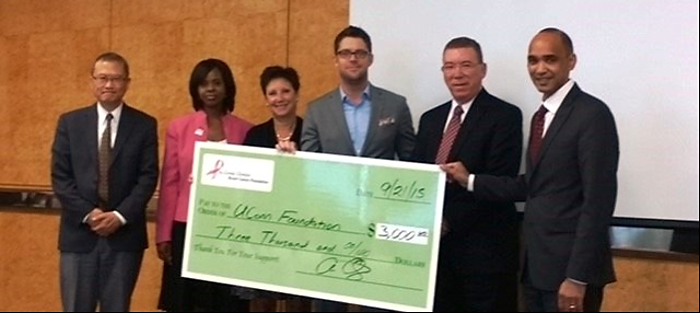 Up to 60 women who are either uninsured or underinsured will receive free and potentially life-saving mammograms this year at UConn Health, thanks to a recent $6,000 donation from the Linda Clemens Breast Cancer Foundation.
"Many of these women would not go for mammograms otherwise because they have no coverage," says Richard Carbray Jr., a member of the UConn Health's board of directors who helped facilitate the gift.
The gift, to be paid in two $3,000 installments, was presented to the UConn Foundation's Linda Clemens Fund at a recent UConn Health board of directors meeting. The funds will help support the mammogram program.
"We're trying to reach out to as many as we can in the community, really the Hartford-based community. It's about trying to get out there and work together to eradicate the disease," says Carbray, who also sits on the board of directors of the Linda Clemens Breast Cancer Foundation and recently was elected to his second term as a member of UConn's Board of Trustees.
This is the second year the Linda Clemens Breast Cancer Foundation has made the generous donation to the Carole and Ray Neag Comprehensive Cancer Center at UConn Health. The program has already provided 35 free mammogram screenings.
"That means a whole lot to us, just the fact that there were 35 women out there who really couldn't have afforded it and we helped them," says Adam Clemens, one of the founders of the Linda Clemens Breast Cancer Foundation.
"Breast cancer survival rates increase exponentially the earlier you catch it," Clemens says.
Breast cancer survivor Rosanne Palazzolo started the foundation in 2011 with Clemens, who lost his own mother, Linda, to breast cancer when he was 7 years old. Their first fundraiser, the Pink Glove Gala, was so popular it has become an annual event.
About a year ago, with Carbray's help, the Linda Clemens Foundation asked to meet with leaders of UConn Health's breast program to inquire about how they could partner together. They decided to focus on early detection through annual screenings for underserved and uninsured women.
"Our comprehensive breast team educates women at various community outreach events throughout the year on 3D mammography and early detection,'' says Wanita Thorpe, academic administrative manager for the Neag Comprehensive Cancer Center. "But to tell a woman with no insurance we can offer her a free mammogram can be life changing.''
In addition to funding the mammograms, the Linda Clemens Foundation provides "chemo care bags" for UConn patients that consist of games, lotion, nail care items, hats, and candy.
The foundation has also donated 30 $50 Stop & Shop cards for patients who sometimes fall on hard times during their cancer treatments, Thorpe says.
–Jack Cramer, UConn Foundation
---