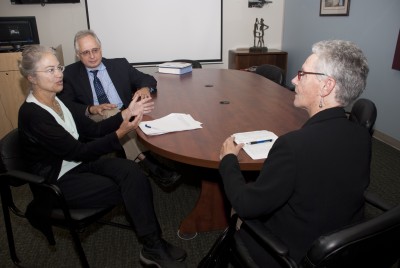 The exact numbers may vary by projection, but all point to a critical shortage of geriatricians as the U.S. elderly population continues to grow.
It's what was on the mind of Elizabeth Ritter, commissioner of the Connecticut Department on Aging, on her recent visit to UConn Health.
Ritter met with faculty at the UConn Center on Aging to get a sense of what the University is doing to produce more physicians and other providers who can meet the growing needs.
"It was an opportunity for me to see one of the country's foremost centers," Ritter says. "I was interested in learning about geriatrics and where we're going with it, particularly the projected shortages of people who will be caring for us as we age."
Dr. George Kuchel, director of the UConn Center on Aging, says while people have been aging since the beginning of time, aging as a field of endeavor for clinical care is relatively young.
"We have major shortages of providers in geriatric medicine and geriatric psychiatry, and not just doctors, but all levels of clinical care," Kuchel says. "Connecticut does much better, but we're still facing a shortage."
According to American Geriatrics Society data from 2014, Connecticut had a shortfall of 113 geriatricians, and has a projected shortfall of more than 200 by 2030.
"In the 30 years the UConn Center on Aging has been here, it has produced research and educated those who will care for the most quickly growing part of our population," Ritter says. "It was incredibly far-sighted of the founders more than 30 years ago to create this, and now, even more so."
Her visit included a conversation with Dr. Suzanne Rose, the UConn School of Medicine's senior associate dean for education.
"We discussed the importance of continuing to integrate geriatrics in all levels of the medical education program," Ritter says. "There's no way geriatrics is not going to be integrated in everything we do in medicine."
Ritter also had lunch with geriatric fellows and got a tour of the UConn Health campus.
---