It's an open secret that while health care professionals often work long hours to go the extra mile for their patients, they routinely neglect their own health and personal lives.
"We often treat our patients better than our own family members," an instructor once told Heather Dimock, a second-year physician assistant student at Quinnipiac University. "And that's true," she said.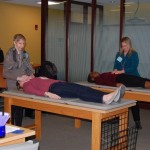 Dimock was one of the 130 health professions trainees and pre-health professions student registrants from throughout the state who spent a recent Saturday at the Second Annual Health Professions Student Wellness Conference. There, Connecticut's health professionals in training – future doctors, nurses, dentists, social workers, pharmacists, occupational therapists and physician assistants – learned ways to take care of their own well-being as students and eventual practitioners through interactive sessions on stress relief, work-life balance, nutrition, general wellness, and alternative or integrative medicine.
The event was developed and staffed by health professions students in the Urban Service Track (UST), which is sponsored by the Connecticut Area Health Education Center (CT AHEC), along with its educational partners at the University of Connecticut and Quinnipiac University. It was held last month at Quinnipiac's North Haven campus, and open to students from all academic institutions in the state.
The conference is one of the many innovative ways UST and AHEC fulfill their missions to support those working to become health professionals in the state.
"People will present with symptoms that are hard to fathom. Modalities like this can actually be very helpful in figuring out how to serve patients' needs," UConn's Associate Dean of Medical School Affairs, David Henderson, told students at the first acupuncture session. Henderson, a family medicine physician, integrated acupuncture into his own practice more than a decade ago after he had a patient complain of pain which was spreading in a way that couldn't be explained by Western medical textbooks.
"We (in Western medicine) tend to view the body as a bag of chemicals – traditional Chinese medicine is more energetic in its perspective…clearly we are both," Henderson said. "So the whole idea of integrative medicine does make sense, particularly a lot of functional problems that don't lend themselves to the therapies that we have that are mostly pharmacologic and based on biochemistry."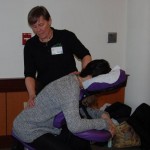 Teaching future health professionals about integrative medicine provides not only an option for stress relief and wellness for their own use, but also helps them relate better to patients, according to Caitlin Bette-Waner, a third-year UConn medical student and UST member, who developed the first conference in 2014.
"There are a lot of patients that use these modalities and it's important for us as providers to be knowledgeable about them – even if we don't offer those disciplines or practice them, we need to be knowledgeable about them because our patients are going to be using them," Bette-Waner said.
UConn School of Social Work student Christopher Pressley said he was interested to find out at the acupuncture session that, "There's a specific ear acupuncture for detox – that could be important for a complimentary or integrative treatment," in his own treatment of clients.
Another popular session explored healthy eating on a budget and busy schedule. Nutritionist Alison Birks gave students healthy eating tips, like how to maximize their vitamin intake from certain foods. Chef Carol Byer Alcorace showed students how to make three easy gluten free and vegan recipes – a three kale salad, quinoa with butternut squash or sweet potato – and spring rolls that she then had students prepare themselves in the classroom.
Matthew Cooper, director of Quinnipiac's North Haven Learning Commons, urged students in his keynote speech to try and "unplug" more, saying that social media, smartphones, and instant entertainment services can provide unhealthy distractions from study, work and sleep.
Although technology available to college students has changed drastically over the last few decades, he said, "We're still processing like we did in the middle ages. The learning will always come back to 'how do we get this information inside our brains.'"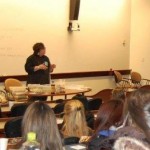 A work-life balance panel discussion with current students and recent health professions alumni also provided recommendations for conference-goers. The six panelists and moderator implored students to take time for themselves – particularly to take time for workouts. Those workouts can be unorthodox, too – graduating Yale medical student Roger Kim said he performs squats while stuck in his room day and night studying for exams, and UConn Masters of Social Work / Masters of Public Health student Karonesa Logan suggested students use a Fitbit or other personal tracking device to log their daily movements.
"It is like a game. (You think) 'I did nine flights of stairs today, I need to do one more,' Logan said.
Students planning to go into health professions programs also received advice on coping mechanisms for the application process from UConn nurse practitioner alum Kara O'Brien Anastasiou, doctoral nursing candidate Christopher Yi, and social work student Patricia Bowen.
Last year the conference included about 50 students from UConn and Quinnipiac. This year's event had almost three times the number of student registrations from 69 different towns and seven different educational institutions. Registration fees were waived because of sponsorships provided by educational and community partners working with UST.
Reflecting on the success of the day, Lisa-Marie Griffiths, a UConn nursing faculty member and assistant clinical professor who works with UST shared, "It's amazing when you delegate to a group of students what they can do".
---