Here's what the metrics tell us about the most popular Pulse items from 2019:
Jan. 10 (1,284 clicks)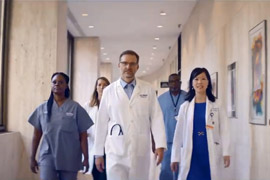 Look Familiar?
Building on the success of our recent "Power of Possible" television campaign, in the coming days—on a TV near you—will debut "The Power of Possible II." While still heralding our teaching and research, the sequel begins to focus on our patient care and the advantage that is academic medicine.
Watch the preview, and look carefully—this was shot 100 percent on the Farmington campus and everyone in it works for UConn Health (except that dog!).
Over the coming weeks, it will be joined by additional new billboard, radio and other promotions as we tell our story and invite the community to join us in harnessing the power of possible.
Sept. 19 (968)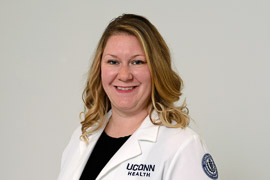 'I'm a Nurse; I Can't Let You Do This'   
President Katsouleas mentioned it in his message to the UConn Health community earlier this month. Now, during suicide prevention month, the nurse practitioner who intervened and likely stopped a man from jumping from an elevated area on campus, Lauren Brennan agreed to share her account of that day.
March 22 (826)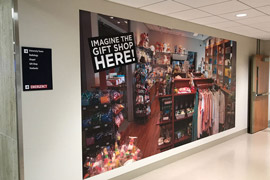 Can We Move the Gift Shop? 
The UConn Foundation is launching a campaign to relocate the gift shop to a prime location.
Learn how you can help, and why this is a cause worth keeping in mind when UConn Gives next week.
Feb. 7 (819)
PIC OF THE WEEK
Wearing Red Institution-Wide
Groups from throughout UConn Health, both in Farmington and other clinical offices, got their red on and gathered together for photos to celebrate National Wear Red Day to kick off American Heart Month. View larger photos.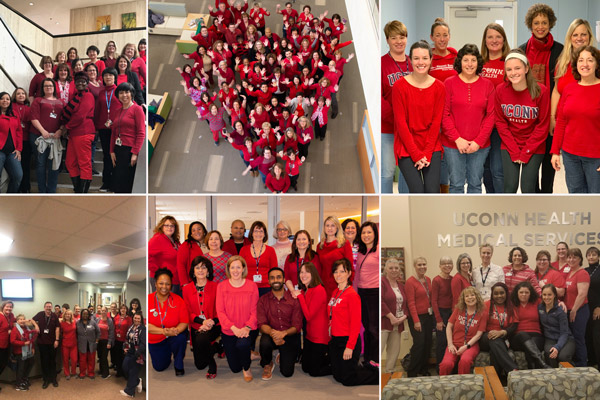 Jan. 3 (780)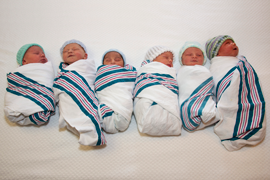 New Year's Babies: Not 1, Not 2…
It sure was a busy New Year's Day in our maternity unit, where a record six babies were born! The first to arrive was little Matthew, born at 1:17 a.m. to Heather and Joe Coss of Burlington.
Welcome to Matthew and all the New Year's newborns: Beatrice (5:42 a.m.), Owen (9:32 a.m.), Muhammad (10:55 a.m.), Sofie (11:41 a.m.), and Caleb (4:49 p.m.). Find more information and photos.
UPDATE: In case you missed it, the babies are back!
Five of them returned for a one-year-later photo!
July 25 (738)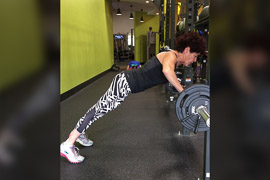 POWER OF POSSIBLE
Lowering Cholesterol Without Drugs
Our Lifestyle Medicine Program continues to help people make healthy choices to naturally improve their health.
There's no shortage of success stories among physician assistant Brad Biskup's patients — a recent one being that of Linda Nadeau, who reduced her LDL cholesterol by more than 100 points!
May 30 (701)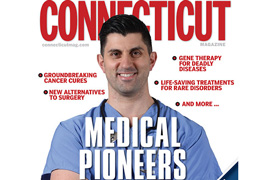 Connecticut's Best Docs
Connecticut Magazine is out with its 2019 "Best Doctors" issue. There are 48 familiar faces this year, including a cover story on Dr. Omar Ibrahim and the advanced robotic tool he uses to get a head start on diagnosing/ruling out lung cancer.
Oct. 31 (700)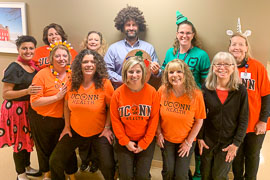 UConn Health Halloween  
Many of our clinical staff are in costume today. Recognize anyone?
Plus, Drs. Gary Schulman and Bina Katechia from our dental faculty share a guest column that sheds some spooky light on what's happening in our mouth when we eat candy. Second thought, maybe don't read this until next week!
Oct. 10 (642)
PIC OF THE WEEK
Fall Fun Fest and Pumpkin-palooza   
Congratulations to the Department of Quality, whose "Proud as a Peacock" pumpkin took first place in the Pumpkin-palooza contest at this year's Fall Fun Fest! Thanks to an army of volunteers, our courtyard became a festive setting for employees to take a break and enjoy the season, some snacks, and some fellowship. See the photos and count the smiles, plus read a first-hand account from one of the Project SEARCH interns who volunteered at the event and helped create the second-place pumpkin!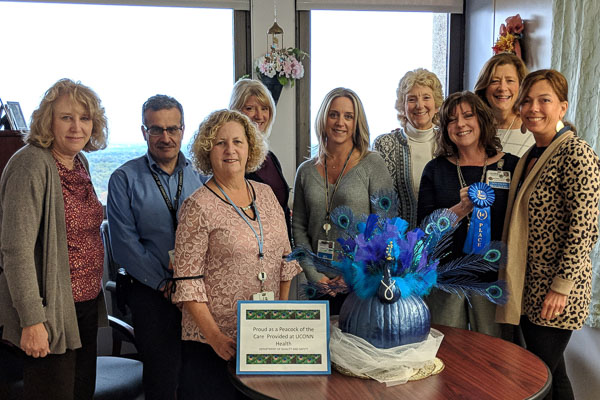 Jan. 24 (642)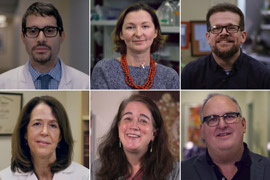 Spotlighting Our Faculty 
Improving immigrant health, advancing infection prevention programs, and researching novel cancer therapies are just a few of the accomplishments featured in the winter edition of Faculty Spotlight.
The School of Medicine's Office of Faculty Affairs' video series celebrates our researchers, clinicians, and educators, and also includes an On-Point update from CEO Dr. Andy Agwunobi and medical school dean Dr. Bruce Liang.
Watch the Winter 2019 edition of Faculty Spotlight.
---