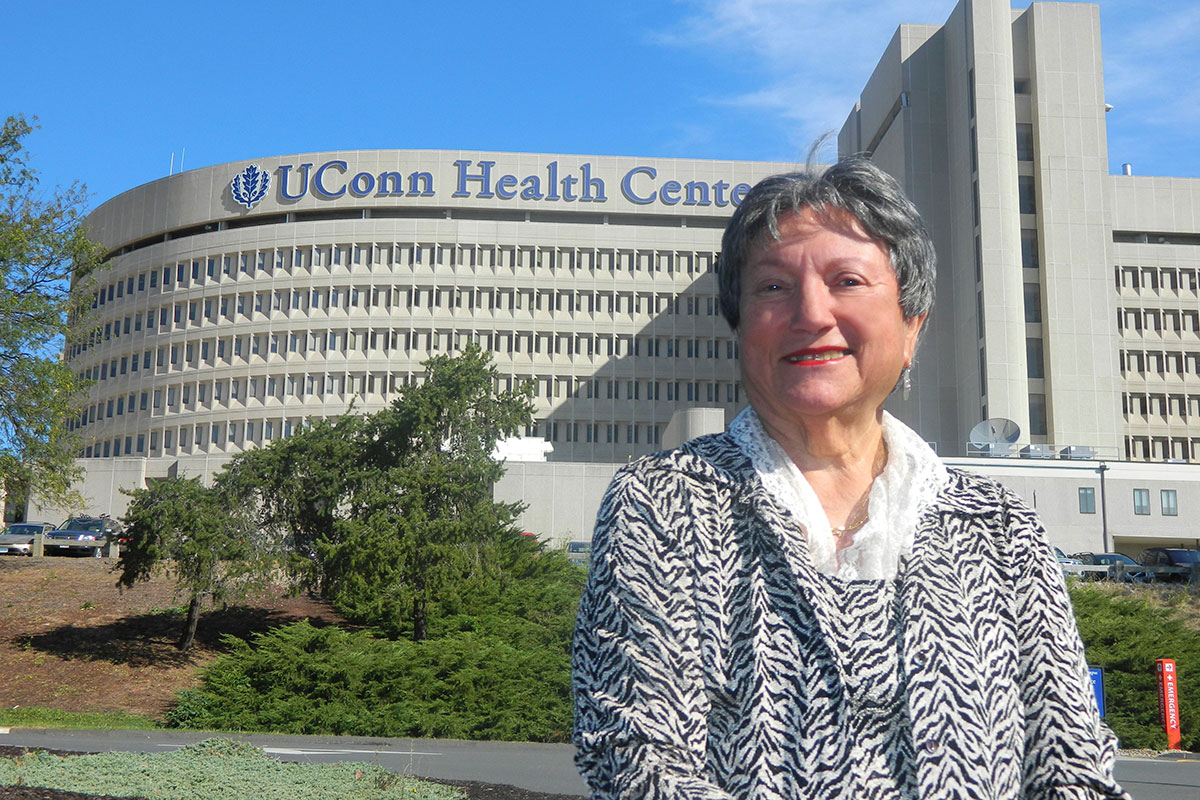 Even though it's been more than 20 years since she retired from UConn Health, Irene Engel never stopped working to make it a better place.
Irene has been a fixture at UConn Health since before John Dempsey Hospital opened, first as a nurse at the old McCook Hospital in Hartford, then as a nursing administrator, then in various positions as part of the medical school administration, and then, in "retirement," working to rejuvenate the UConn Health Auxiliary.
Today, Irene's life as a retiree in the more traditional sense is underway. Earlier this year she stepped aside as Auxiliary facilitator and helped with the leadership transition, with Debbie Baril and Chris Kaminski now serving as co-facilitators.
The Irene Engel Fund for Professional Advancement in Nursing
In honor of Irene's dedicated service to UConn Health, both as an employee and in retirement as facilitator of the UConn Health Auxiliary, the UConn Foundation has established the Irene Engel Fund for Professional Advancement in Nursing. This fund is to benefit UConn Health nurses who would like to enhance their professional development through channels such as academic courses and conferences.
The Foundation is accepting checks (payable to The UConn Foundation, please specify it's for Irene's fund) at 10 Talcott Notch Road, Suite 100, Farmington, CT 06032. Checks also can be dropped off at the Connucopia Gift Shop.
The next chapter for Irene starts with her spending winters in Florida. But we couldn't let this snowbird fly without answering a few questions before she left!
How did a young nurse from New Hampshire end up at UConn?
After nursing school (Mary Hitchcock Memorial Hospital School of Nursing, Lebanon, N.H.) I got a job in the ER at Hartford Hospital to be near Harry, who was my fiancé. He worked at Pratt and Whitney in East Hartford. I came to Connecticut in 1955, and lived in the old Hartford Hospital maternity ward. They rented out rooms to the employees. My whopping salary was $232 a month, and I paid $28 to live in the dorm. I was allowed to have a hot plate and an electric skillet, and we had common bathrooms.
I started in 1968 at McCook Hospital, part-time on the surgical floor, weekends only. I went to full-time in 1970 when David (our son) turned 5. I've been part of the Auxiliary since 1969 (its founding year). That's when we started the art collection.
You retired as an associate dean in the UConn School of Medicine in 1996. How did you get there?
At McCook we opened the ICU, started the renal dialysis program, and instituted primary care nursing, where the patient always had the same nurse, and the nurse followed the patient. It was a really big deal at the time. In 1975 the hospital in Farmington was ready and we started all over there. By then I was assistant director of nursing and we set up all the floors in the hospital, the ER, the ICU, the NICU, the OR, and eventually pediatrics, surgery on the 7th floor, and moved the ICU to the 2nd floor.
After Harry died (in 1978) I went back to school and got a degree in business. David and I both graduated in 1983, him from high school and me from Post College in West Hartford. At that time the faculty wanted to move out of the hospital and have a faculty practice, and they needed an administrator. They originally were looking for a physician, but they gave me a chance. That was the start of what would become known as UConn Medical Group (UMG), run out of the Department of Surgery. About six years after that, my work there was done, and I moved into the dean's office first as an assistant dean then an associate dean. My nickname was "the Czarina of Space." I was loved by some and hated by others.
By the time I was 60 I had worked myself out of a job. In 1996, I turned 60 on April 29 and retired May 1.
But how "retired" were you really?
About a year later, I got a call from Peter Deckers (then the medical school dean) and Dr. [Steven] Strongwater (hospital director) saying they'd like to talk to me about the Auxiliary, which was struggling. They asked me if I would consider taking on a job as president of the Auxiliary. Instead I agreed to take a different approach, as a facilitator. I wouldn't do monthly meetings, I'd only do quarterly meetings, I'd keep up the newsletter, and I would try to make us profitable again.
We were profitable, for many years, but unfortunately, the last few years have been very difficult for the Auxiliary. The gift shop moved from the main lobby in the C building to the University Tower, and although the space is beautiful, sales have been down since the move. If things don't turn around in the next few years, the sad part is, we may have to get rid of the shop, and that would be the end of the Auxiliary, which would be a shame.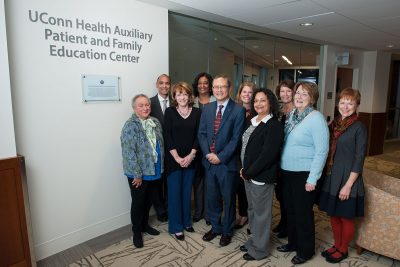 If you had to choose a few of the Auxiliary's accomplishments you're proudest of, what comes to mind?
The Family Place at Homewood Suites, for NICU parents, that was such a special thing. And gladly, it's still there, even though it's not ours anymore. The second thing I would say is the webcam project that we did with the Rotary in the NICU. Those are two things I think we should really be proud of.
The Healy Chair (Fall 2005 UConn Health Magazine, P. 15), that was a big deal. We didn't do it alone either. The faculty collaborated with us to make that chair happen. We took on a $950,000 pledge, and with the help of the faculty to get the money, we got the $1.5 million. It still pays Audrey Chapman's salary today.
Over the years we've done a lot for research, and for students, with scholarships and travel money for medical, dental and nursing students.
What is it about UConn Health that makes it such a special place to you?
My love for a teaching institution. Not only can you help medical and dental students become educated with patients, but there was a warmth and a love that we all had in those early days. We just bonded together in a way to want to be successful and be proud of what we called the health center.
So many people that I mentored went on to do such great things in the state, in other institutions and in our own institution, so it always made me feel I've had a tie. I've always been pleased that I've had so much to do with medical care in this state: starting up the open-heart surgery at Hartford Hospital, starting up the neonatal intensive care unit as we know it at the Health Center, and now at Children's, and helping bring paramedics to Connecticut. Those were all big things. And that's my life, because I felt that I helped educate other nurses, and medical students, and I met so many great people doing my jobs.
What will you miss the most?
The people. That's easy. The people, the friendships, the loyalty.
---