UConn Health's main campus has 12 buildings on 164 acres, yet it's all considered a single address. In the age of GPS, that can make it tricky to find a specific location within 263 Farmington Ave.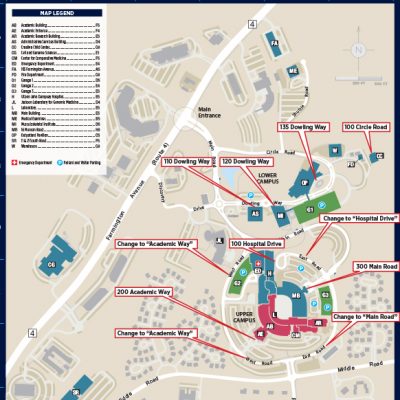 What if we could instead have unique addresses for several of our buildings?
As we prepare our application to the town of Farmington on this matter, we'd like to share a draft plan with you and hear your thoughts and suggestions.
We're thinking of the following changes:
Renaming the road leading to the University Tower "Hospital Drive"
Changing the rest of East Road to be an extension of Main Road
Renaming West Road "Academic Way"
These suggestions are illustrated here, with new hypothetical addresses for the University Tower, Building C, and the Academic Rotunda.
The Administrative Services Building, UConn Musculoskeletal Institute, and Outpatient Pavilion would have Dowling Way addresses, and the Creative Child Center would have a Circle Road address.
What do you think?
Please leave your comments below, or fill out our comment form.
---