If you've had any interaction with emergency medical services or the emergency department, chances are you've met Peter Canning. Peter is a registered nurse, a paramedic, and the EMS coordinator for UConn John Dempsey Hospital. Last month the Connecticut Department of Public Health presented Peter with the Public Health Commissioner's Award in recognition of his impact on pre-hospital care, his leadership, and his promotion of the EMS system. Peter joined UConn Health in 2008 and his position is part time. He lives in West Hartford with his wife and three daughters.
What is an EMS coordinator?
I provide EMS education and quality assurance. My job is to see that area ambulance services bring patients to our hospital and provide them with great care, and that as a hospital, we treat EMS as a valued partner.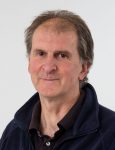 Peter Canning
Favorite musician:
Bruce Springsteen
Favorite literary work:
Homer's The Odyssey
Favorite vacation spot:
Misquamicut, Rhode Island
Favorite delicacy:
Ackee and saltfish with breadfruit (My wife is Jamaican.)
Favorite sports team:
Boston Red Sox
What are the most challenging/rewarding aspects of your job?
Care for many of our patients begins when EMS arrives on scene of a 911 call. When someone is having a heart attack or stroke, EMS can diagnose the problem and provide us with advance alerts that speed the life-saving interventions such as cardiac catheterization and thrombectomy that UConn JDH provides. Every month in our EMS newsletter we highlight these cases where our care partnership has made a difference in our patient's lives.
What's something a lot of us don't realize about EMS?
People are often unaware of the high degree of training and the advanced capabilities of paramedics. They are highly trained professionals who can administer more than 30 different emergency medications and perform skills such as endotracheal intubation, surgical airway and needle decompression. They are also skilled in crisis intervention as nearly every day they deal with people in emotional and psychiatric distress.
How has EMS/emergency medicine evolved since the start of your career?
When I began in EMS in 1989, we were known as ambulance drivers who often had to call the hospital for permission to give medicine. Today, we are valued partners who do most all of our work on standing orders.
Additionally, EMS recognizes UConn John Dempsey as a peer to the two large Hartford hospitals when it comes to our ability to treat critical medical patients. That has not always been the case prior to the expansion of our emergency department.
What was your reaction to being honored with the Public Health Commissioner's Award?
You never do the work with the intention of winning an award, but to be recognized for almost thirty years of work to improve prehospital care in the state was gratifying. I am also a big fan of Commissioner Pino's commitment to public health so it was special to get the award from him.
What do you like to do when you're not at work?
I am still a full-time paramedic in Hartford. I have published two nonfiction books and two novels about EMS. I love playing sports with my daughters and swimming competitively in US Masters meets.
---