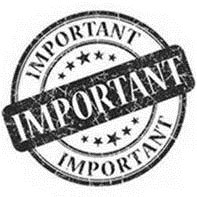 What You Need to Know
Walgreens ePrescribe outage Sunday: Superscripts has issued a notification of scheduled maintenance of Walgreens' prescription system from 1 a.m. to noon Sunday, June 10. Refill request messages may not transmit. New prescriptions and responses to refill requests may be routed by fax via Surescripts fax Service. Prescriptions for this pharmacy can be printed for those patients in the ED, being discharged for hospital or being evaluated in urgent care during this outage.
Coming soon: These regular HealthONE e-updates, which we've been sending to all faculty, staff, students since March 8, will be going to a more targeted audience in the near future. If you stop getting these and still want to receive them, we'll gladly re-subscribe you. And of course we're continuing the flow of information through other channels, including the HealthONE page on UConn Health Express, the weekly Pulse e-newsletter, the daily Lifeline messages, and the HealthONE Twitter feed.
---
Provider Go-Live Updates

Trainers Making Rounds Next Week
As we move from go-live to optimization, training opportunities continue, shifting the focus to the operational knowledge our users need to make the most of HealthONE. We still have trainers on site who will make rounds and offer at-the-elbow support. Watch for a schedule on that soon, refer to the HealthONE training page for the latest updates, and don't forget, training coordinators are available at healthonetrainingregistration@uchc.edu.
---
myHealthONE Update
Starting Monday, our patients will be able to use myHealthONE to exchange secure messages with not just their primary care physician, but any and all of their UConn Health providers. Remember to encourage patients to take advantage of this powerful and convenient patient portal and register for myHealthONE today! Direct them to look for the ACCESS myHealthONE icon on health.uconn.edu, toward the right of the page.
---
HealthONE Success Stories

From Dr. Ben Ristau, urologic oncologist:
Prior to go-live, it was not uncommon to have three or four different programs open in order to provide proper care to patients. Now only one is required. HealthONE has vastly improved patient continuity of care and efficiency of documentation.
Got a HealthONE success story? Please reply to this email so we can feature it in upcoming HealthONE communications.
---