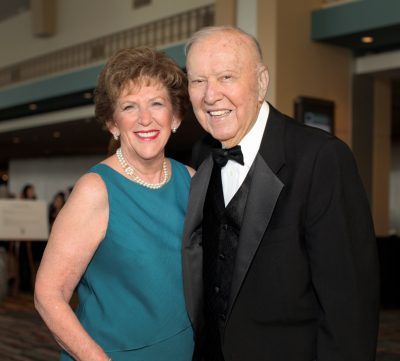 It is with the deepest sadness that we share news of the passing of Dr. Raymond Neag at the age of 86 on April 19.
Dr. Neag, simply known to us as Ray, was a great man and a wonderful human being in every sense. Ray was an entrepreneur, industrialist, philanthropist and one of UConn Health's most ardent and loyal supporters.  Ray was a proud founder of Arrow International, well known for its triple lumen catheter benefiting patients in need of multiple intravenous therapies.
Ray inspired us with his humanity, which drove all his generous gift decisions. He gave so much of himself and his wealth to humanitarian causes for the betterment of society. His mother-in-law once told me that he is not the wealthiest person but he gave much more of what he had back to society.
Ray was the ultimate genuine true gentleman and the nicest person you will ever meet. He lived modestly and was like your friendly, next door neighbor. He was always positive even under the most difficult challenges. Despite great odds, he survived cancer and later faced cardiac and pulmonary diseases with the same courage, grace and positive attitude.
His big-hearted philanthropy to UConn Health supported the Carole and Ray Neag Cancer Center, Calhoun Cardiology Center, Orthopedics, Department of Radiology and Diagnostic Imaging, Radiation Oncology, Ophthalmology, Dermatology and many other causes.
UConn Health has lost a great friend in Ray, but will always remember and celebrate his successes and all the wonderful things he has done. We will always be reminded and inspired by his humanism, selflessness, dedication to helping others including those who are less fortunate, and his unfailing positive views on life, friendship, and family.
We send our heartfelt sympathy and condolences to Carole Neag, their children Elizabeth Lamoin and David Hogan, and the entire Neag family. He has left an indelible mark on UConn Health and his legacy will live on in the many centers, departments, programs and initiatives he has made possible.
Andrew Agwunobi, M.D., M.B.A.
Chief Executive Officer, UConn Health Executive Vice President for Health Affairs
Bruce T. Liang, M.D., F.A.C.C.
Dean, UConn School of Medicine
Director, Pat and Jim Calhoun Cardiology Center
Ray Neag Distinguished Professor of Cardiovascular Biology and Medicine
---