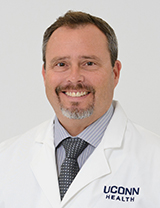 Looking at Us: Army Veteran Dr. Bradford Whitcomb, Lieutenant Colonel, Retired, Gynecologic Oncologist at UConn Health, discusses what Veterans Day means to him.
When did you serve and in what branch of the service?
I served in the Army Medical Department for more than 25 years. I deployed in 2008 to Baghdad for three months and I deployed in 2012 and 2013 to Afghanistan for seven months. The first time was as an assistant to a surgical team and an Ob/Gyn. And in the second deployment I was part of a combat research team in Afghanistan and also served as the regional Ob/Gyn consultant.
Why did you want to serve in the Army?
Patriotic reasons, of course, but it was also a conduit for me to attend medical school and college. I was on scholarship through the ROTC and I went to medical school at the  military medical school in Bethesda, Maryland (USUHS).
What did you get out of serving?
It was very humbling to take care of not only people who were injured or sick while I was deployed but also to take care of active duty service members, dependents and retirees and family members of retirees when I was back at home.
What does Veterans Day mean to you?
I think of my dad who served during the Korean War. I also think of the people who were more in harm's way than I was in those deployed settings, and who are currently there away from their families which is one of the hardest things. I think of the families because it was very difficult on my family for one of us to be away. I think it was actually harder on my spouse than it was on me to take care of the kids and to have many responsibilities at home by herself. I think about those who are gone now and who will continue to go. They enjoy their job, dedicated, but leave behind a family that sometimes is in a very challenging situation.
Do you think veterans receive enough recognition and appreciation?
I think it has been very positive overall since 9/11. I think the population has been very welcoming and very helpful. However, as time has gone on in Iraq and Afghanistan, the Middle East, I think people have become less attuned to it because it is a chronic problem. . I worry that we may not pay as much attention as we did right after 9/11. It's horrible that something bad had to happen for veterans to get more recognition , but we need to keep these heroes on our minds. We need to remember that people go away for a long time to serve their country and they're away from their families, which is extremely difficult.
---