Several UConn Health employees were recognized with PAWS awards at a recent reception.  The award honors employees who consistently perform above and beyond the expectations of their job and exhibit the following attributes:
Part of a team
Awesome attitude
Wonderful work ethic
Superior service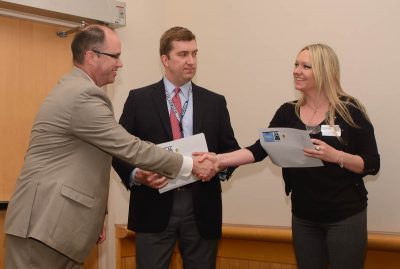 PAWS award winners are announced every-other-month. If you know someone or a team of employees who have gone above and beyond the call of duty, nominate them for a PAWS award. Visit the Human Resources website for the criteria and nomination form.
The May PAWS award winners are:
Blagoje Filipovic – Voice Network & Mobile Services
Diana Guerrera – Surgery 7 Unit
Heidi Lytton – UMG General OB
Christine Miller – UMG Infectious Disease
Scott Nivolo – Rehabilitation Services
Sarah Thomson
Jacqueline Dombrowski
Daniel Yesu
James Castro
Nightingale Nominees
Joan Blythe – Procedure Center Unit
Frank Faccin – CMHC-Garner: Medicine
Lisa Gentile – UMG Infectious Disease
Keisha Johnson – CMHC-Osborn: Medicine
Arlene Morin – JDH Organization and Staff Development
Lynne Neff – CMHC-Central Office
Anne Niziolek – Medicine 4
Dawn Smith – Cardiology
Jennifer Sposito – Stroke Center
Timothy Tralli – CMHC-Hartford: Medicine
Dental Administrative Team Award
Loreander Davis – Pediatric Dentistry, Craniofacial Sciences
Jo-Ann Gates – Oral & Maxillofacial Diagnostic Sciences, Oral Health & Diagnostic Sciences
Shelly Gioia-Morelli – Orthodontics, Craniofacial Sciences
Kimberly Giove – Oral & Maxillofacial Surgery, Craniofacial Sciences
Annmarie Martin – Center for Regenerative Medicine, Reconstructive Sciences
Tara Morrison – General Dentistry
Deborah Osborne – Endontology, Oral Health & Diagnostic Sciences
Jozii Ruiz – Pediatric Dentistry, Craniofacial Sciences
Cynthia Smith – Behavioral Sciences and Community Medicine, Oral Health & Diagnostic Sciences
Kathleen Thomas – Prosthodontics, Reconstructive Sciences
Robin Tiso – Center for Regenerative Medicine, Reconstructive Sciences
Carmen Vazquez – Pediatric Dentistry, Craniofacial Sciences
Donna Bailey-Gates – Peridontology, Oral Health & Diagnostic Services
---