A groundbreaking ceremony on Monday marked an educational milestone for the UConn School of Medicine, UConn School of Dental Medicine, and the UConn Graduate School. The Academic Building Addition and Renovation Project will consist of a nearly 18,000-square-foot addition and several smaller renovations to UConn Health's existing Academic and L Buildings located in Farmington.
The ceremony coincided with the start of the academic careers of 98 medical and 42 dental students who will benefit from the project.
"Today we mark an inspirational milestone in the history of UConn Health with the creation of a new academic addition for all of our schools. Welcome to our future," said Dr. Suzanne Rose, senior associate dean for education for the UConn School of Medicine. "What will take place in this building in the years to come will impact the patients and lives of our communities in Connecticut and beyond for decades to come, and in immeasurable ways as young women and men learn to become scientists, dentists, and physicians," added Rose.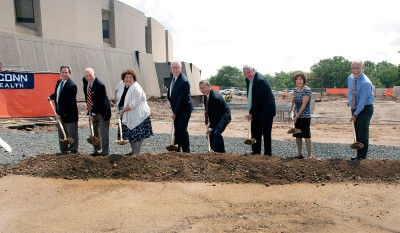 The Academic Building Addition and Renovation Project is a component of Bioscience Connecticut that was championed by Gov. Dannel P. Malloy and approved by the Connecticut General Assembly in 2011. "Our sincere gratitude to the governor for his vision and effort for Bioscience Connecticut which this is a part of," said Dr. Bruce Liang, dean of the UConn School of Medicine. In addition to various building projects, Bioscience Connecticut calls for a 30 percent increase in the UConn Schools of Medicine and Dental Medicine class sizes.
Dr. Steven Lepowsky, senior associate dean for the UConn School of Dental Medicine, concluded the ceremony by addressing the new medical and dental school students who attended the event by saying, "This project is all about you. This is all about ensuring that we provide our students with state-of-the-art facilities to get the best possible education."
---