The Classes of 2019 from the UConn School of Medicine and UConn School of Dental Medicine have received their student white coats, the symbolic start to their academic careers at UConn Health.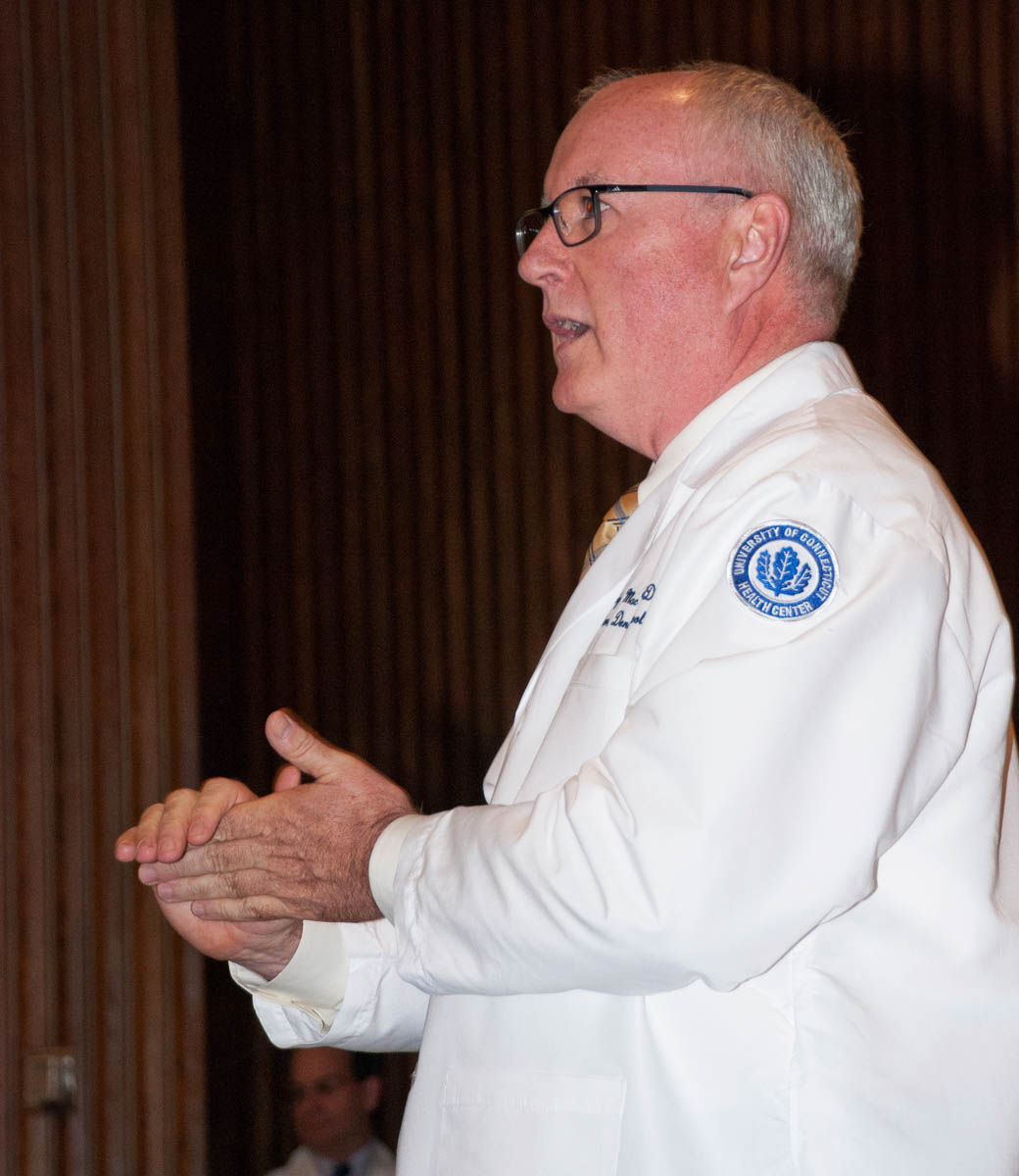 Joined by family members Friday, 98 medical and 42 dental students took part in the traditional White Coat Ceremonies that are the culmination of student orientation for the new classes.
"The white coat has become health care's symbol of compassionate and scientific patient care," says Dr. Michael Goupil, associate dean for students at the UConn School of Dental Medicine. "The White Coat Ceremony represents the faith and trust the faculty has for the entering students to carry out their responsibilities for the welfare of their patients."
The students represent the 47th entering classes for both schools.
"I'm really excited about today," says medical student Pooja Patel. "Everyone I've met is incredibly nice and helpful. I'm just excited to start classes and get to know everyone better."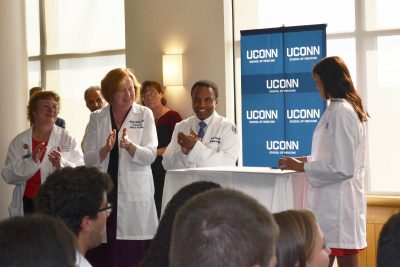 The Arnold P. Gold Foundation, which supports efforts to foster humanism in medicine, provides support for the UConn School of Medicine's White Coat Ceremony.
"I feel honored, because I'm a first-generation college student," says dental student Richard Jimenez. "This represents, so far, one of my greatest accomplishments. Ten years ago I would never have seen myself here today."
Jimenez comes from the Pacific Northwest and had never been to the Northeast before coming to UConn to study dental medicine.
As is tradition, after receiving their white coats, the new dental students recited the Dentist's Pledge, and the medical students recited the Hippocratic Oath.
Class of 2019 Dental School Profile
42 students (55% women)
Average age: 24
55% Connecticut residents, 21% other New England residents
25 undergraduate school programs represented – 21% UConn, 7% other Connecticut schools
17% are underrepresented minorities
71% majored in science as undergraduates
Class of 2019 Medical School Profile
98 students – includes seven M.D./Ph.D. candidates (56% women)
Average age: 23
87% Connecticut residents
45 undergraduate school programs represented – 35% UConn; 9% other Connecticut schools
18% are underrepresented minorities
88% majored in science and/or health-related topics as undergraduates
---