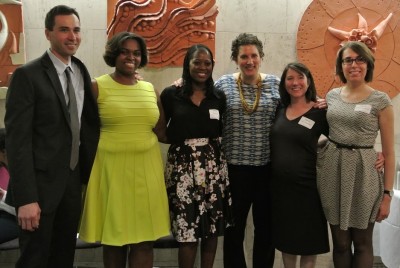 During the Urban Service Track's Academic Year Closing Ceremony at UConn Health, six alumni representing distinct health professions were presented with the first annual Urban Service Track Alumni Excellence Award.
The award is presented to graduates "who have made a difference in guiding future health professionals to value interdisciplinary teamwork and serve our neediest communities."
Award winners include: Kara Anastasiou, APRN; Graham Garber, DMD; Tianna Hill, MSW; Shawnet Jones, MD; Kimberly Tschetter, PA-C; and Danielle Wojtaszek, PharmD.
The Urban Service Track, soon to enter its 10th year, is a program designed to specially educate, train and mentor next-generation health care professionals to work with our state and nation's urban underserved populations. The Urban Service Track is sponsored by the Connecticut Area Health Education Center Network (CT AHEC) located within the University of Connecticut's Center for Public Health and Health Policy.
---