The Office of the Vice President for Research recognizes Sarah Pan, UConn Health MD/Ph.D. student, who has been asked to present her research at the Plenary Paper Session at the annual meeting of the American Geriatrics Society this May in Washington, D.C. The AGS Annual Scientific Meeting is the premier educational event in geriatrics, providing the latest information on clinical care, research on aging, and innovative models of care delivery. Work presented at the meeting's Plenary Paper Session represents the field's most highly rated scholarship.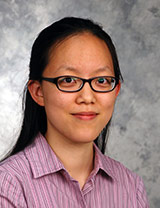 Pan's paper, entitled "Upregulation of Skeletal Muscle Atrophy Markers in Young and Aged Mice During Influenza Infection," is the result of research conducted at the UConn Center on Aging in the labs of Dr. George Kuchel and Laura Haynes, Ph.D. In this study, the effects of influenza infection on body weight and expression of key muscle atrophy genes were observed in young and old mice. The virus led to significant weight loss and elevated atrophy genes in both groups, but older mice were much slower to recoup loss, and the correlation between weight loss and level of atrophy gene expression was also stronger in the aged mice. This link between weight loss and certain markers of inflammation-associated muscle loss may indicate that an infectious challenge such as the flu can disrupt the balance required to maintain muscle mass, and precipitate muscle and weight loss seen in frail older adults.
Pan's research with the Kuchel and Haynes labs was funded by a prestigious 2015 MSTAR award from the American Federation for Aging Research (AFAR). The MSTAR Program provides medical students with an enriching experience in aging-related research and geriatrics, with the mentorship of top experts in the field. Congratulations to Sarah and the Kuchel and Haynes labs!
---