The ADA Foun
dation recently announced that the University of Connecticut School of Dental Medicine has been awarded a 2014 E. "Bud" Tarrson Dental School Student Community Leadership Award for its Urban Service Track (UST) program. The award was submitted by the dental school's Dr. Ruth Goldblatt,  third-year dental student Joseph Larson, and UST's Petra Clark-Dufner.
The Tarrson Award recognizes dental school student programs that demonstrate excellence in providing services to underserved populations w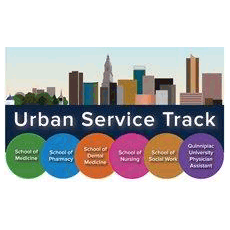 ithin the U.S. The ADA Foundation received many outstanding applications this year and the selection of winners was difficult. For the second year, a generous gift from ADA Business Resources, Inc. (along with a gift from an anonymous donor) will allow the ADA Foundation to present a total of seven Tarrson Awards.
The Urban Service Track is designed to produce a cadre of well qualified health care professionals committed to serving Connecticut's urban underserved populations. Urban Health Scholars gain valuable exposure to the complex and challenging issues of health care in the inner city. Clinical training occurs in federally qualified health centers and other primary care facilities in Connecticut's urban underserved communities. Elective clinical experiences focus on underserved settings such as homeless shelters, community health fairs, and migrant farm worker clinics.
---