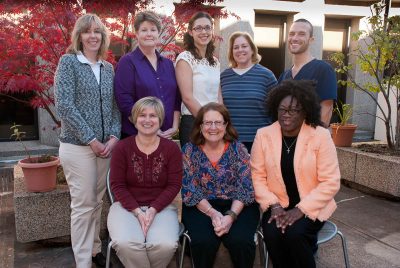 The Touchstone Awards, sponsored by Shared Governance, are to acknowledge and honor individuals who have made significant contributions to the practice and provision of the allied health disciplines at UConn Health. The eligible candidates must be nominated by their colleagues or peers. Nominees must be a UConn Health employee or UConn Health contracted employee in an allied health discipline (non-nurse, non-physician)).
There are three winners in each of the three award categories this year: Service, Innovation and Teamwork.
"Touchstone Service Award"
Nominees should have significantly influenced the process, principles, and/or techniques of provision of service. This can include service to patients, internal and external customers, and the community.
o    John C. Dobbins, RPh, BS – Central Pharmacist
o    Jaroslaw Dybinski, CAN- Float Pool
o    Kimberly H. Silverman, PT, CLT – Inpatient Rehabilitation Supervisor
"Touchstone Innovation Award"
Nominees should have been instrumental in the development or execution of an innovation that positively impacts either their practice area or UConn Health as a whole. This can include; but is not limited to, program development, process improvement, service provision, etc.
o    Michael S. Desrosiers, RT, (R)(CT) – Lead Technologist – CAT Scan
o    Brittany Gancarz, MS – Certified Genetic Counselor
o    Marge Murphy – Clinical Coordinator, UConn Medical Group
"Touchstone Teamwork Award"
Nominees should have demonstrated an exceptional ability to work as a team in a way that serves as an example of the spirit of cooperation to the UConn Health community.
o    Materials and Logistics Management – Transportation
o    24 Hour Telecommunications Operators
o    John Dempsey Hospital – Blood Bank
The award letter sent to the winners says, "This honor is a testament to your accomplishments, commitment, and tireless efforts to raise the standards of excellence in your profession. It is also a testament to the high regard in which you are held by your colleagues."
---