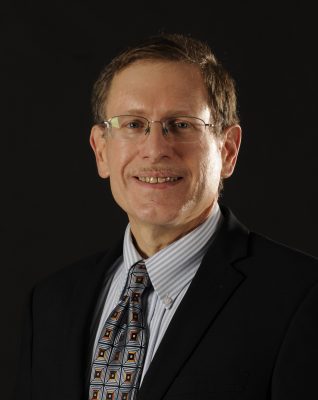 Dr. L. John Greenfield, chair of the Department of Neurology in the University of Arkansas for Medical Sciences (UAMS) College of Medicine, is joining UConn Health to chair its Department of Neurology later this year.
Greenfield also will serve as the academic chair of neurology at Hartford Hospital.
A graduate of Yale University, Greenfield received his doctorate in neuroscience from the University of Virginia in Charlottesville in 1988 and his medical degree at the school the following year. He finished his residency training in neurology at the University of Michigan in Ann Arbor in 1993 and served on the faculty of its Department of Neurology. He also completed a fellowship in electroencephalography (EEG) and epilepsy during that time, and is board certified in neurology and clinical neurophysiology.
"I see a whole lot of possibilities at UConn," Greenfield says. "It's not just the brand new hospital tower and the beautiful outpatient pavilion I'm very excited about, it's also the dynamic young faculty. There are a lot of great opportunities at UConn Health now and in the foreseeable future, and I'm glad I can be a part of it."
His start date is Sept. 2.
Greenfield lectures nationally on the role of inhibitory neurotransmission in epilepsy and the mechanisms of antiepileptic drugs. He is a fellow of the American Academy of Neurology and the American Neurological Association, and is a councilor of the Association of University Professors of Neurology. He is also active in the American Epilepsy Society. He was a charter member of the National Institutes of Health's (NIH) Acute Neural Injury and Epilepsy Study Section (2009-2015), and was recently elected to the professional advisory board of the Epilepsy Foundation of America.
"Dr. Greenfield in a nationally renowned clinician and researcher, a perfect choice to chair our Department of Neurology," says Dr. Bruce Liang, dean of the UConn School of Medicine. "I'm grateful to our search committee for its diligence."
The search committee represented both UConn Health and Hartford Hospital:
David Steffens, professor and chair, UConn Health Department of Psychiatry (committee co-chair)
Harold Schwartz, psychiatrist-in-chief, Institute of Living/Hartford Hospital and regional vice president, behavioral health, Hartford Healthcare (committee co-chair)
Linda Barry, UConn Health assistant professor of surgery
Doug Fellows, professor and chair, UConn Health Diagnostic Imaging and Therapeutics
George Kuchel, director, UConn Center on Aging and Citicorp Chair in Geriatrics and Gerontology, UConn Health
Ajay Kumar, assistant professor and chief, Hartford Hospital Department of Medicine
Al Lizana, UConn Health associate vice president of diversity and equity
Richard Mains, professor and chair, UConn Health Department of Neuroscience
Wendy Miller, assistant professor of medicine, assistant designated institutional official, and quality and safety education officer, UConn Health Graduate Medical Education
Erica Schuyler, M.D., assistant professor of neurology, Hartford Hospital
Anthony Vella, professor and chairman, UConn Health Department of Immunology