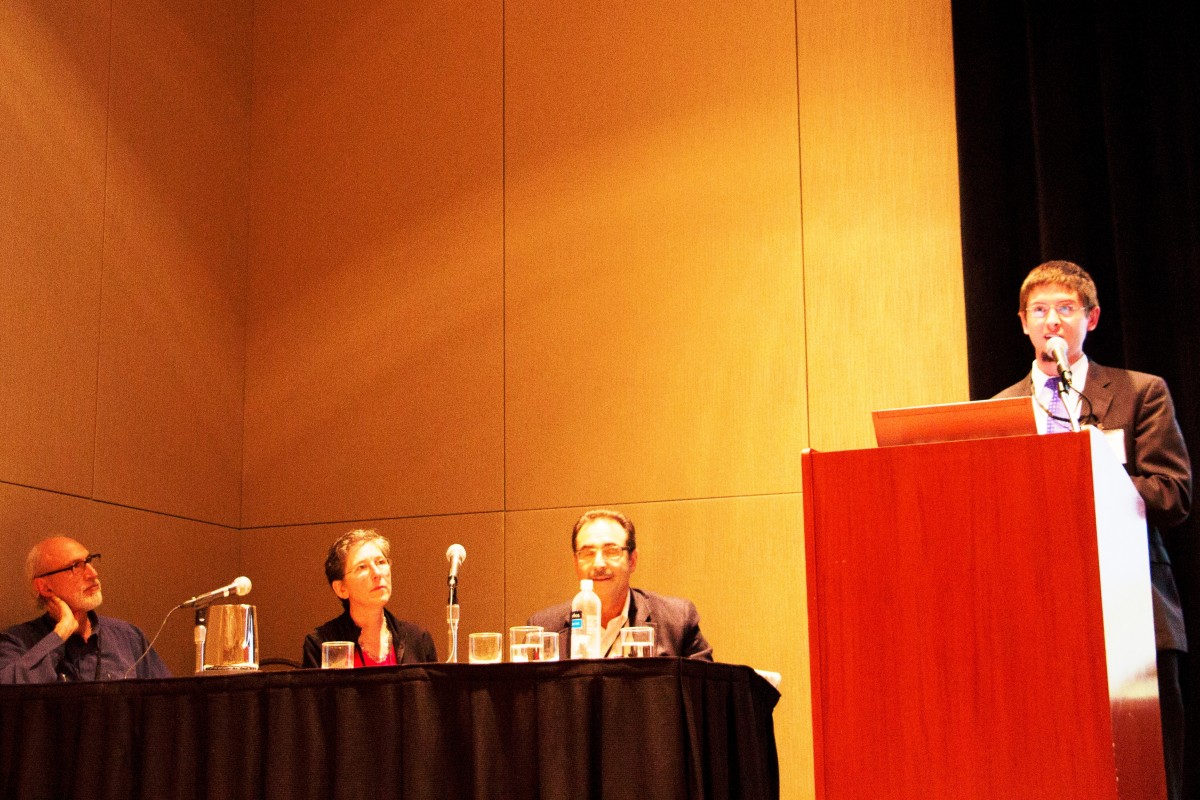 UConn Health's M.D./Ph.D. Program was well represented this summer at two national meetings to advance physician-scientist training, including a presentation to M.D./Ph.D. program directors and administrators by one of its students.
The National M.D./Ph.D. Association Meeting is for program directors, and students don't often attend. But Alex Adami, a sixth-year M.D./Ph.D. candidate, was invited to this year's conference to present the database project he spearheaded – one that quickly got the attention of M.D./Ph.D. programs throughout the country.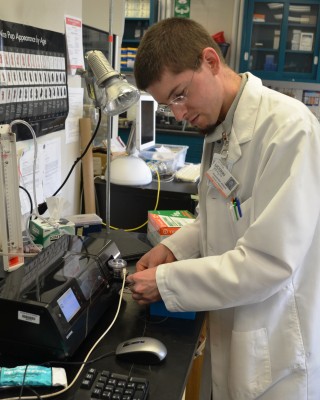 Adami has long held leadership roles in the American Physician Scientists Association (APSA), the national M.D./Ph.D. Student Association, and has overseen many initiatives within APSA, serving previously as its technology chair and currently as APSA's president-elect.
One of his APSA initiatives was the development of a database of research-intensive residency programs, those with goals of training future physician-scientists, including graduates of M.D./Ph.D. programs.
"Many residency programs targeting physician-scientists exist, but there was no easy way for a physician-scientist trainee preparing to apply for residency to find them," Adami says. "With this project, we aim to correct that. Residency is a critical period for physician-scientist trainees, one where many become discouraged and leave the career path. By connecting more trainees to programs designed for them, we hope to reduce those losses and increase the number of physician-scientists who go on to make important advances in understanding human health."
In addition to his presentation, Adami joined a panel of M.D./Ph.D. program and residency program directors focusing on postgraduate physician-scientist training.
"I am so proud to see our students representing UConn, not just at the national level but on the same stage as directors of M.D./Ph.D. programs and other very senior physician-scientists," says Dr. Carol Pilbeam, director of the UConn M.D./Ph.D. Program, who was also at the meeting. "It is a testament to Alex's leadership and accomplishments and to the caliber of student that the UConn M.D./Ph.D. program attracts."
Further accolades for UConn at the association meeting went to Tracy Dieli, admissions coordinator and M.D./Ph.D. program administrator. Dieli received a plaque from the National M.D./Ph.D. Association recognizing 10 years of dedicated service to the program.
As the directors and administrators were wrapping up in Denver, the 30th annual M.D./Ph.D. Student Conference was just beginning. Featuring presentations by internationally-prominent physician-scientists and networking opportunities between students from programs nationwide, the student conference is one of the premier gatherings of M.D./Ph.D. trainees. As part of its mission to train physician scientists, UConn's M.D./Ph.D. program annually sponsors students to travel to the conference. This year's representatives were Adami and fifth-year student Jeremy Grenier.
Several sessions of the conference are devoted to research presentations by current M.D./Ph.D. students. Grenier's work in the Department of Immunology was featured during one of the poster sessions. His project examines the impact of viruses on stroke outcomes. Infection is a leading cause of mortality following stroke. Grenier is pursuing his thesis work in the laboratories of Drs. Kamal Khanna and Louise McCullough.
"I am continually amazed by the scientific achievements of our students," says Dr. Suzanne Rose, UConn School of Medicine senior associate dean for education. "The accomplishments of students like Alex and Jeremy demonstrate our institution's ability to foster mentorship, discovery, and excellence."
Adami was selected to give an oral presentation on his project that explores the relationship between the host microbiota, the microorganisms that dwell on and inside of each of us, and the development of asthma.
"Asthma is becoming more and more common in every region of the world," Adami says. "The increase in asthma has been linked to overuse of antibiotics, particularly in children, and my research supports this. Our hope is that by understanding how the microbiota interacts with our immune system, we can better treat infections in childhood without promoting the development of asthma later in life."
Adami is pursuing his thesis work in the immunology laboratory of Dr. Roger Thrall.