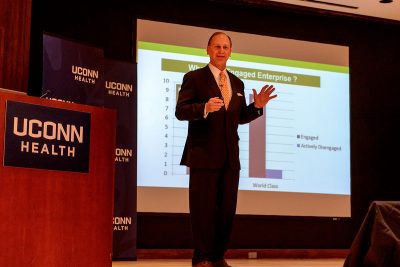 Managers and directors continue attending a series of leadership development workshops as part of Dr. Andrew Agwuonbi's efforts to improve employee engagement.
Central to that is a shift in philosophy to what's known as servant leadership.
The most recent installment of the development series featured a presentation from Joseph Patrnchack, who served as chief human resources officer at the Cleveland Clinic before founding Green Summit Partners, an HR consulting firm specializing in employee engagement. He told the crowd of deans, directors, department heads, and other leaders that engaging the workforce through servant leadership provides guidance and inspiration to be an effective leader.
"Building an engaged enterprise is realizing what kind of leadership it takes to create high levels of employee engagement across your organization," Patrnchak said. "Engagement has both emotional and intellectual components and equally important, the combined result is extra on-the-job effort."
Leaders can't force their people to be highly engaged, he said, but they can create an environment and a culture that encourages them to become engaged.
"The most important thing an organization's leaders can do to promote engagement is to demonstrate that they care about their people," Patrnchak said. "Applying the principles of servant leadership assists leaders to move from a command and control, position power style to one of empowering others and putting others and the organization first."
The leadership development series has had five workshops so far. They serve as a platform for UConn Health leaders to learn what is needed to improve the culture and improve the workplace for its workforce.
–Alexis Crean