UConn Health held a ribbon-cutting ceremony to celebrate the opening of its new medical office suite at 800 Connecticut Boulevard in East Hartford on Thursday.
"The relocation of our offices will expand access to quality health care for the citizens of East Hartford and the surrounding towns," said Dr. Denis Lafreniere, medical director of outpatient services and associate dean for clinical affairs. "UConn Health is proud to offer world-class health care to the East Hartford community."
Formerly located at 99 Ash Street, the new office opened earlier this year and consists of approximately 12,000 square feet and employs 29 full- and part-time employees. Services offered at the new location include primary care, cardiology, nephrology, obstetrics and gynecology, pediatrics, rheumatology, diabetes education, and a blood draw station.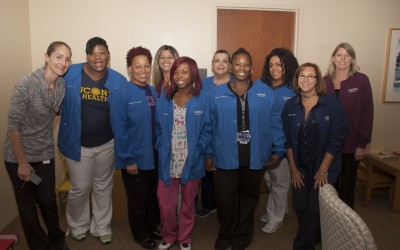 Several local lawmakers attended the ceremony including East Hartford Mayor Marcia Leclerc who said she is pleased UConn Health remained in the city. State Representative Henry Genga also thanked UConn Health for "providing much needed medical services to the East Hartford community."