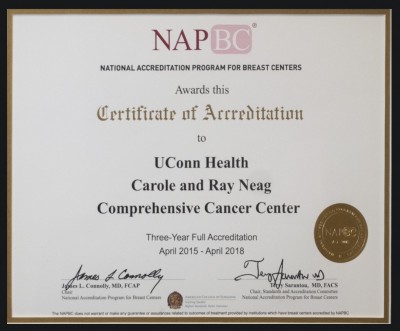 UConn Health's Carole and Ray Neag Comprehensive Cancer Center is celebrating its newly accredited breast program.
The National Accreditation Program for Breast Centers has awarded UConn Health's cancer center full three-year accreditation, a formal acknowledgment from the American College of Surgeons of UConn Health's commitment to providing high-quality evaluation and management of patients with breast disease.
The distinction "is only given to those centers that have voluntarily committed to provide the highest level of quality breast care and that undergo a rigorous evaluation process and review of their performance," according to an NAPBC news release. "A breast center that achieves NAPBC accreditation has demonstrated a firm commitment to offer its patients every significant advantage in their battle against breast disease."
Standards required for accreditation include proficiency in center leadership, clinical management, research, community outreach, professional education, and quality improvement.
"The breast program is judged and evaluated, not only by the excellence of its doctors, but also the ability of the entire patient care staff as well as clinical trial, outreach and research staff to address the multitude of issues that face women with breast health concerns," says Dr. Susan Tannenbaum, Neag Comprehensive Cancer Center director of medical oncology. "It additionally means that the program is actively working towards improving the breast health of future generations as well as working towards reducing disparities in our patient populations."
The surveyor's report gave UConn Health high marks for its multidisciplinary care, an institutional commitment to basic science research, and strong hospital administrative support for the cancer program.
"Accreditation is something that informs patients or supporters of our program, that we are recognized as a dedicated and capable program," Tannenbaum says. "In getting our accreditation, our breast program was acknowledged to have all those elements needed, but recognized as well to have many things in place to be used as an example of what others should look at for best practices in a breast program, and that is an accomplishment we are all proud of."
More information about the National Accreditation Program for Breast Centers is available at www.accreditedbreastcenters.org.
Follow UConn Health on Facebook, Twitter, YouTube, and SoundCloud.