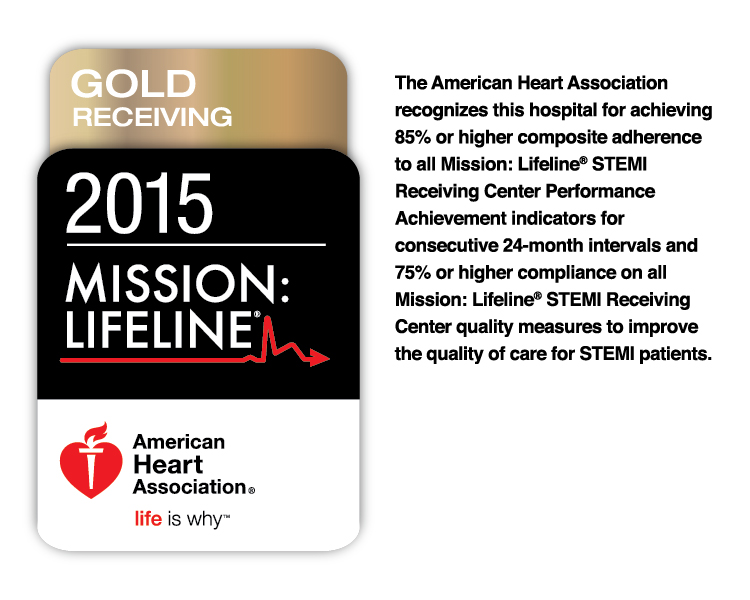 UConn Health's John Dempsey Hospital has received the American Heart Association's Mission: Lifeline® Gold Receiving Quality Achievement Award for its treatment of heart attack patients.
The award recognizes hospitals, emergency medical services, and referring centers for their efforts to improve quality care for those who suffer severe heart attack, or ST segment elevation myocardial infarction (STEMI).
"UConn Health is dedicated to improving the quality of care for our patients who suffer a heart attack, and the American Heart Association's Mission: Lifeline program is helping us accomplish that goal through nationally respected clinical guidelines," says John Dempsey Hospital CEO Anne Diamond. "We are pleased to be recognized for our dedication and achievements in cardiac care, and I am very proud of our team."
UConn Health earned the award by meeting specific criteria and standards of performance for the quick and appropriate treatment of STEMI patients by providing emergency procedures to re-establish blood flow to blocked arteries when needed. The gold award level recognizes two consecutive calendar years of meeting these criteria.
"We commend UConn Health for this achievement award, which reflects a significant institutional commitment to the highest quality of care for their heart attack patients," says Dr. James G. Jollis, chair of the Mission: Lifeline Advisory Working Group and president of the North Carolina Chapter of the American College of Cardiology. "We applaud them for their commitment to quality and timely care."
The American Heart Association's Mission: Lifeline program's goal is to reduce system barriers to prompt treatment for heart attacks, beginning with the 9-1-1 call and continuing through hospital treatment. The program helps hospitals and emergency medical services develop systems of care that follow proven standards and procedures for STEMI patients. It works by mobilizing teams across the continuum of care to implement American Heart Association/American College of Cardiology Foundation clinical treatment guidelines. For more information, visit heart.org/missionlifeline and heart.org/quality.
Follow UConn Health on Facebook, Twitter, YouTube, and SoundCloud.