Chief Administrative Officer Janel Simpson joins UConn Health with a combination of private- and public-sector experience. For the last six years she's been at the Department of Social Services, a $7.6 billion state agency, most recently in the role of deputy commissioner. She spent the majority of her career before that in the insurance industry, including HSB, the Hartford, and the Phoenix. Janel holds an MBA in finance and strategic initiative from Columbia University, and a BA in mathematics from Clark University. She arrived to UConn Health Aug. 30.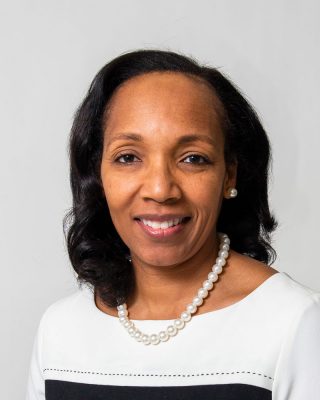 Describe your role at UConn Health?
My role is a little different than the former chief administrative officer. I have responsibilities for administrative services, including the oversight of administrative policy development and implementation, auxiliary operations, child care and wellness centers, parking and transportation, environment of care, and life safety. Responsibilities also include development of decision support function and liaison to the "One UConn" effort.
What brought you here?
The opportunity to work in an environment with amazingly dedicated and talented individuals where the work feels meaningful. This is a great opportunity to utilize my experience in operations, strategy, finance, IT. I enjoy working in environments where no two days are alike and you learn to expect the unexpected. I can honestly say, I have experienced all that in my short tenure thus far.
What about your experience will help you in this role?
The ability to prioritize, keep the "big picture" in mind while addressing the "smaller" items that may deliver large returns in short timeframes. The ability to multitask, crisis management, being able to operate, remain calm and make critical decisions under pressure.
At DSS your clients are individuals with food insecurities, need for cash assistance, medical coverage, fuel assistance, etc. When I started, our timeliness for providing benefits for our clients ranked us in the bottom 5% in the nation, leading to the filing of three federal lawsuits against the department. This placed us under a great deal of scrutiny by those we served, the media, state and federal governments.
The department gained a reputation of not caring or not doing enough, though we had some of the most dedicated and committed individuals who really wanted to make a difference. The agency had a 27-year-old antiquated system supporting an equally antiquated paper process. We had to change our technology, process, culture, and narrative simultaneously.
It was the most challenging time. Regardless, we worked as a team to define and achieve our goals. We restructured the organization, redesigned our processes, implemented a new $350 million eligibility system, and changed our culture. Connecticut is recognized by the federal government as the gold standard for system implementation, top two and top ten nationally for timely processing of SNAP and Medicaid eligibility respectively. With these changes, Connecticut received $6 million in bonus funding from the federal government. The department successfully satisfied all terms and conditions of all three federal lawsuits in less than three years.
What do you see as the most promising and challenging aspects of being CAO at UConn Health?
The promising thing is that whatever challenge we face, we have the team in place to tackle it. You see it exemplified every day.
Like other state agencies, and frankly, many private companies, you must achieve your goals with finite resources and fewer dollars than one's spending needs. Here at UConn Health we all have the same overarching goal, together we must and will achieve it.
What do you like to do when you're not working?
I volunteer my time mentoring middle and high school girls of color.