The Dr. Richard Simon Excellence in Clinical Neurosciences Award will be given annually to celebrate Dr. Richard Simon's distinguished career at UConn Health and his pioneering contributions to medicine. The award will be given to a clinician, staff member, or student who exemplifies excellence in any area of the neurosciences at UConn Health. The awardee will be chosen in the Spring by a selection committee lead by Dr. Hilary Onyiuke following a call for nominations.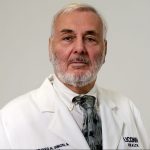 Richard Simon was born in Boston, Massachusetts. His father was a neurologist/psychiatrist. Dr. Simon graduated from Stanford University, class of 1965 and from St. Louis University School of Medicine class of 1970 and a Masters in Mathematics in 1988. He trained in General Surgery and Neurosurgery at the University of Colorado, completing his neurosurgical residency in June 1976.
Dr. Simon has spent his entire postgraduate career at the University of Connecticut School of Medicine where he is now Professor of Surgery (Neurosurgery). Formerly, he was Chief of the Division of Neurosurgery and Director of the Department of Neurosurgery at Hartford Hospital and the Program Director for the University of Connecticut/Hartford Hospital Neurosurgical Training Program.
An endowed fund has been established at the UConn Foundation to receive gifts from those who wish to honor Dr. Simon and award excellence in the neurosciences at UConn Health. It was launched by generous gifts from Dr. Simon's colleagues and former students.
Anyone wishing to contribute may do so at https://uconn.givecorps.com/causes/15343-dr-richard-simon-excellence-in-clinical-neurosciences-award-fund-iho or by contacting Peter Lamothe, Associate VP for Development, Health Sciences at the UConn Foundation, plamothe@foundation.uconn.edu or 860-679-4962
"Our vision is for UConn to be a global center for excellence in neurosurgery in the context of the world class care that is already being provided at UConn Health. Dr. Simon has dedicated over 40 years to UConn Health. I can think of no greater honor for him than the knowledge that this award had been established by his colleagues, friends and former students whose careers he helped to launch."
—Ketan Bulsara, M.D., MBA
   Chief, Division of Neurosurgery, UConn Health
---