UConn Health staff and students enjoy the annual Fall Fun Fest featuring the ever-popular Pumpkin Palooza decorating contest, a candy corn guessing game, and a new photo booth, along with delicious donuts, apples, popcorn, and cider. (Photos by Tina Encarnacion)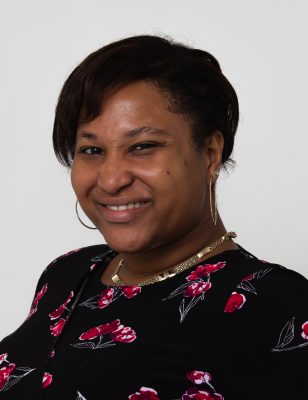 Pumpkin Palooza
Following is a first-person account participating in and volunteering at the Fall Fun Fest by Project SEARCH intern Shaunte Taylor:
I enjoyed the process of making Boogie and painting the pumpkin. Getting ready for the contest was a fun experience with my co-workers. I'm glad we got to make our own individual pumpkins like Jack Skellington, Sally, Mayor and Zero. We put a lot of work into getting prepared for the event. The Nightmare Before Christmas is one of my favorite movies, I watch it all the time. I feel we did each character justice and brought each one to life. I loved seeing what each department did with their pumpkins and what they did had a lot of detail, so the competition was stiff. I also enjoyed giving out the tickets so everyone could vote on which pumpkins they liked the best. We were really hoping to win first place, but we are still very happy that we placed second! I would congratulate the team who won.
At the event there were so many treats, from popcorn to caramel apples. The donuts were really good and the cider was delicious, it was like a festival at work. It was a little chilly outside which added to the fall festival experience. I am glad that we got to participate and do this together as a team. Everyone worked well, we did it and got it done. All our hard work paid off. I would love to participate again next year!
---