Earlier this year, Carol Underwood, an application architect in the UConn Health IT Department, volunteered in Puerto Rico, helping build sustainable housing in a hurricane-ravaged area. Here she shares her story.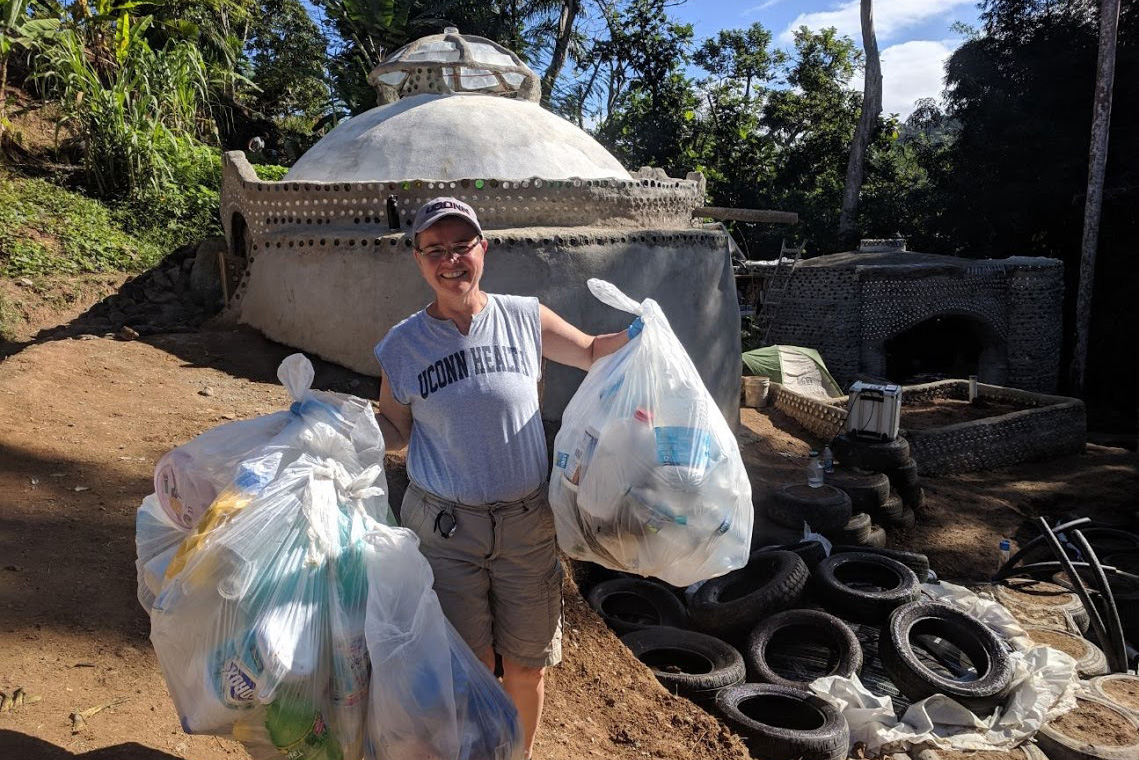 My Visit to Puerto Rico January 2019
There was a palpable and audible crunch under foot. Dressed heavy, packed light, 8 degrees, 30 mph wind, I finally boarded my flight at Bradley International, canceled 24 hours earlier due to a winter storm. Amid a government shutdown, the Martin Luther King Jr. holiday, doubled-up travelers, stressed out TSA agents and air traffic controllers lacking paychecks, I launched for Aguadilla, Puerto Rico, escaping the arctic deep freeze.
I landed in Aguadilla at 4:15 a.m.: 69 degrees, temps rising that day to low 80s. I was met by Lt. Ryan Hammond, recovery helicopter pilot, and escorted onto Coast Guard Air Station Borinquen. Lt. Hammond, my nephew-in-law, also lacking paychecks due to government shutdown, told me the Coast Guard intercepted 25 Dominican citizens from the ocean that morning. Ryan, during my visit, rescued an injured woman on a sail boat on the other side of the Island; it was a 30-hour workday. I witnessed the U.S. Coast Guard, U.S. Department of Homeland Security, U.S. Customs and Border Patrol, air traffic controllers and TSA agents that got us passengers safely to our destinations, hard at work, under the circumstances.
I was finally in "paradise," as my niece Nicole Hammond described Puerto Rico when the family moved there in August 2017, two weeks prior to Hurricane Irma skirting Puerto Rico and leaving one million residents without power. Then, two weeks later, Category 5 Hurricane Maria hit Puerto Rico square-on, leaving the Island a tangle of trees, power lines, debris, washed out roads and failed power, water, sanitation infrastructure.
'The experience was exhilarating, working with locals, transplants and U.S. military people to help create a state-of-the-art self-sustainable off-grid building.'
The U.S. Coast Guard was integral in rescue and humanitarian operations. Air Station Borinquen is on the same power grid as the rest of Puerto Rico. Solar panels on base residential housing send power directly to the Island power grid and do not power homes directly. Due to no electricity, no water, impassable roads, military families including my niece, two children and a dog evacuated for several months while infrastructure was repaired. Not everyone could leave the Island of course. The Coast Guard did air drops of food, water and supplies, particularly in the mountainous area of central Puerto Rico where people were trapped and desperate. The situation was so bad, particularly in the mountains, Coast Guard crews were dropping their own rations to those below. Many people died in the aftermath of Maria. Morgues were full and could not accept any more bodies. Puerto Rico was left in a lurch.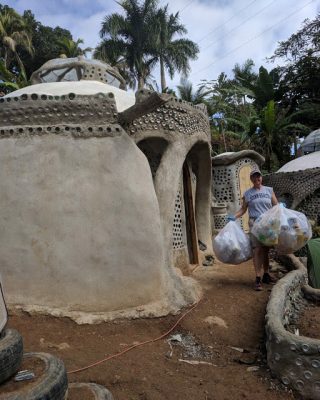 Hurricane Maria devastated Puerto Rico and exposed the Island's vulnerability to natural disasters and severe lack of homegrown food. Puerto Rico imports 85 percent of its food, all fuel is imported, there is very little solar and wind power generation where the sun usually shines and the wind steadily blows. Some say Maria was "the push we needed" to become more self-sufficient. Local people are part of a rising group of entrepreneurs advocating for more farms, solar powered micro grids, hurricane resistant housing.
Earthship Puerto Rico is a self-reliant community center being built in response to the devastation of Hurricane Maria. Lead by the Chapparos, a native Puerto Rican family who owns TaínaSoy Apiario (a local bee farm dedicated to sustainable practices and community), great things are coming together.
After hurricane, the Chaparros decided they were going to be an example for Puerto Rico. They teamed up with Earthship Biotecture in Taos, New Mexico. This community of architects created the building design behind the structures which are based on six principles:
Building with natural and recycled materials – tires, beer bottles, aluminum cans, plastic, styrofoam
Thermal cooling and heating systems
Solar and wind electricity
Water harvesting
Contained sewage treatment
Food production
As well as being hurricane- and earthquake-safe.
The Chaparros have built five independent structures in the past year. After completion, this Community Center will offer classes on sustainability practices as well as offering the West Coast of Puerto Rico a disaster response group ready for the next natural disaster. I had the privilege of volunteering my time and labor while visiting Puerto Rico. Myself and other volunteers worked clearing brush, moving recyclables, concrete mixers, building tools and materials to prepare for the final build. The experience was exhilarating, working with locals, transplants and U.S. military people to help create a state-of-the-art self-sustainable off-grid building – Earthship Puerto Rico.
The Chaparros have an open invitation to those who would like to volunteer or visit this amazing project. Se Levanta Puerto Rico is the chant heard on the Island now – "Rise up, Puerto Rico, it's a new beginning."
Learn more about the final build and view a two-minute video of the project.
—Carol Underwood
---