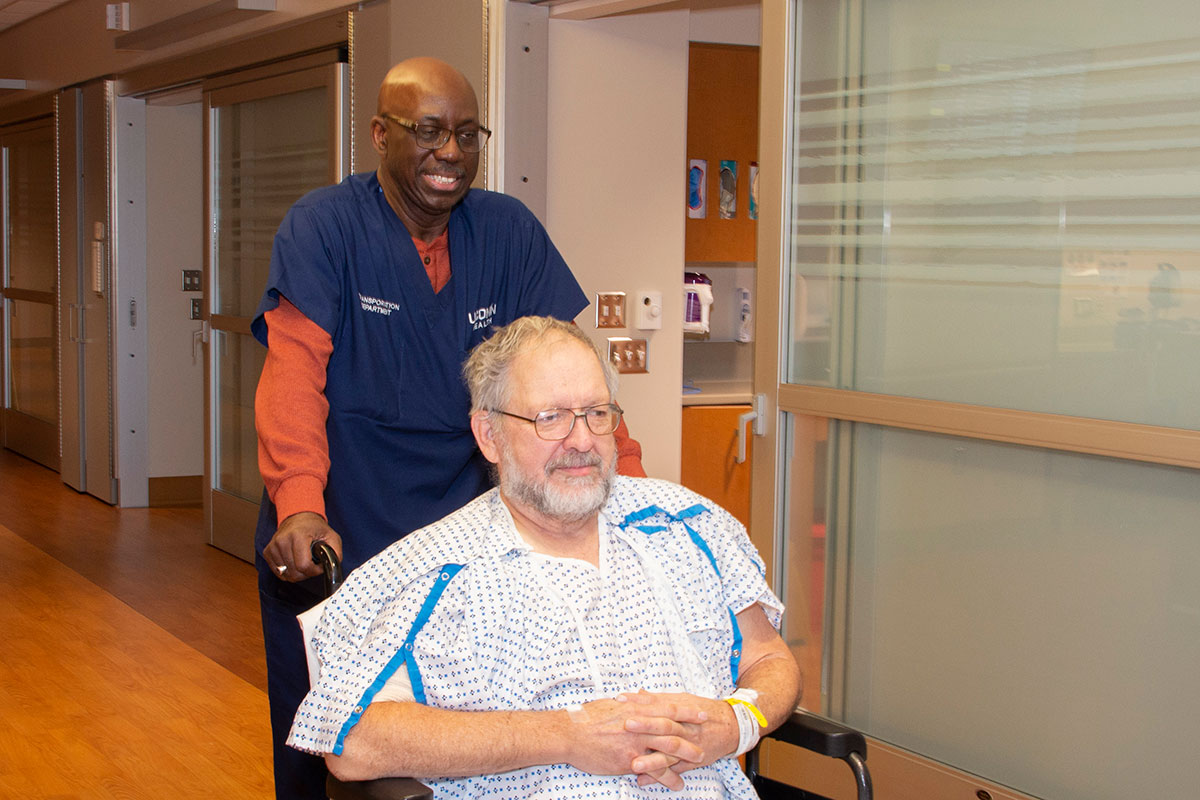 Often when patients come to the UConn John Dempsey Hospital, particularly for surgical procedures, the first and last people they encounter during their stay are the transport aides. UConn Health has 25 transport aides: nine full-time staff, 12 part-time staff, and four students. They are a unit within the Office of Logistics Management that works around the clock, and as such, are considered Level 1 (essential) staff.
Describe the role of transport aides and how they fit into our care delivery mission?
"First and foremost, they're transporting inpatients," says Alex Schwarz, who supervises the transport aides. "They're also moving specimens, they're getting and moving equipment (such as stretchers or wheelchairs) when it's needed, they're rounding, they're responding to Code Blues, Rapid Response Team calls,  in addition to the massive transfusion protocols. Sometimes they're the first ones to see the patients, and usually they're the last people the patients talk to before heading home. They can leave a lasting impression of the care we offer here."
"Even though they're not treating patients, they play a vital role, in that they get the patients where they need to be for treatment," says Logistics Management Director Jeff Boyko. "Whether it's bringing patients down for CT scans or X-rays, or moving specimens and equipment, they focus on getting people and things where they need to go so our doctors and nurses can focus on patient care."
"People are feeling sick, we're trying to help them get better, so they can move on," says Howard Fairley, who, in his third decade in the role, is UConn Health's most veteran transport aide. "We do whatever we need to do as far as transporting them, and then help the nurse do all that she does, so we can get this patient down to the doctor and it all can run smoothly and safely."
"Any patient or anything patient-related, we're here to move," Schwarz says. "We averaged 169 transports per day in December."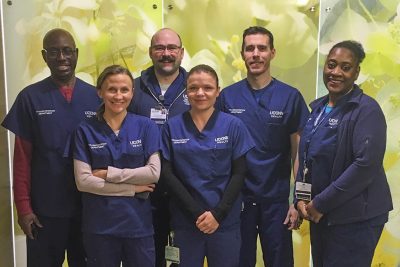 What are their qualifications?
"Our transport aides are CPR-certified," Schwarz says. "They go through crisis prevention intervention (CPI) training, which teaches them to recognize the signs of patients or visitors who may go from exhibiting normal behavior to becoming agitated, then agitated escalating to aggressive, then aggressive to violent; it teaches them what to do to keep themselves safe and to try de-escalate the situation."
"We also look for people with experience in a hospital or clinical setting, transporting patients, transitioning them from different modes of transport. They also have experience with the equipment, such as patient lifts, and they are trained in safe patient handling and two-step identification to verify they're moving the correct patient."
"You try to make the patients feel comfortable in a sick situation," Fairley says. "You try to feel them out first, to see how you can uplift their spirits, to make them feel that this is going to be OK."
What are the most rewarding/challenging aspects of the job?
"I really enjoy the patients," Fairley says. "I try to come across friendly and easy to talk to, and I want them to feel that way, to help them feel more at ease about their medical situation."
"There was this one older gentleman who had heart surgery, and he was just fretting, saying he was going to die. I spoke to him, I said, 'Life and death is about your tongue. Speak life, and live!' Four days later, he was so happy, when I saw him he said, 'Hi, my friend!' I get joy out of seeing that. It's all about the patient. That's pretty much the way we do it."
"It can be a challenge when the patient doesn't really want to be here, but that's understandable. When a patient's not nice, you've got to find your way around that and not take it personally. They're sick, they're hurting, they may be angry, they may receive bad news from the doctor. When someone gets a bad report, or doesn't make it, those are some of the things you deal with. It weighs on a person to see stuff like that."
What's an example of when the transport aides are moving something other than patients?
"When someone's in the O.R. for a surgery or a mother's giving birth, if the patient starts losing blood, UConn Health has a massive transfusion protocol," Schwarz says. "Many departments are notified, including ours. Transport's role is to go get the requisition for the blood, haul up to the blood bank, get that blood, and run back and forth with the blood, which obviously is a pretty critical component."
How far back does the role of transport aide go, and what has changed?
"Transport goes back to the start of the hospital and used to be a function of what today we call Facilities Management and Operations," Schwarz says. "It was under Nursing for a while, and in 2013 it came under Logistics Management."
"The job has remained pretty much the same over the years in terms of responsibilities. But the way that we log the calls and the way that we track performances have changed throughout the years. When transport moved to logistics, they were logging all the calls that came through. We had someone dedicated to answering the phone, taking all the calls and handwriting all of the calls that came through on a log, and then they were going into Excel after the fact and they were transcribing everything that was written into the log. Then we moved toward having an Excel log, in which they directly entered the information. We had all kinds of formulas set up in the spreadsheet, and we gained some efficiency and reporting capabilities. And now we've moved to UConn HealthONE, so we don't even have that person sitting on the phone anymore. That individual is basically an on-shift lead person who's actually out there helping with the calls, which I think has proven to be beneficial. On average, 97 percent of the calls are completed within 16 minutes of being requested. Before HealthONE the average would fall between 20 to 23 minutes."
How do we request a transport?
"Basically anything patient-related that needs to be transported within the hospital should be placed into HealthONE," Schwarz says. "Everyone should have access to place patient and non-patient transport requests. Our transporters sign in to HealthONE, which assigns them to the calls on a rotating basis, subject to availability."
---