When a person has dementia – and the decline in independence that comes with it – loved ones often find themselves in the role of care partner.
It's happening more and more as the population ages and dementia becomes more prevalent, coupled with a trend of people waiting longer to enter assisted living or skilled nursing facilities.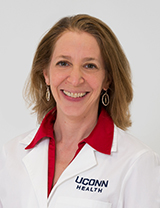 "Care partners, or informal caregivers, have often been called 'the invisible army' because they're vast in number and they go largely unrecognized by the health care system," says Dr. Karina Berg, a geriatrician in the UConn Center on Aging.
More than 80 percent of the help provided to older adults in the United States comes from unpaid or informal caregivers, primarily family members. Nearly half of these caregivers provide care to someone with Alzheimer's disease or another type of dementia. In 2017, caregivers of people with dementia provided an estimated 18.4 billion hours of assistance, a contribution to the health care system valued at $232.1 billion.
"Despite their social and economic value, care partners get very little support and very little education," Berg says. "They're doing an incredibly hard job and the best strategies are not clear because they don't have any training."
To address this, twice a year Berg and colleagues offer a four-week care partner course in partnership with the Connecticut chapter of the Alzheimer's Association. She's offered it in the spring and fall each of the last two years and plans to continue on this schedule.
For many of the challenges care partners endure, there are real, teachable strategies for caring for parents or spouses with dementia, Berg says. "Things like how to help a person with dementia bathe, how to encourage them to get adequate nutrition, and perhaps most importantly, how to communicate in ways that are productive instead of agitating."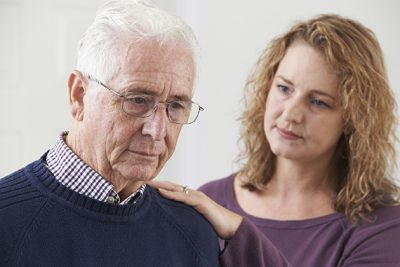 Care partners also are thrust into having to handle matters such as, when is it no longer safe to live alone, or drive, and how to have those difficult conversations, plus complex legal and financial issues, and understanding community resources and state or federal benefits. They often use their own financial resources and may miss time at work or stop working full time.
And while they're dealing with their loved one's health suffering, care partners are prone to their own health suffering. They're less likely to take care of themselves, which can exacerbate chronic conditions like diabetes and hypertension. When they don't feel comfortable leaving their parent or spouse alone, they can become isolated and feel unable to go anywhere – including their own medical appointments. The emotionally taxing nature of being a care partner commonly leads to depression and anxiety. Among caregivers of people with dementia, nearly six in 10 report high or very high levels of emotional stress due to caregiving.
"The health of the caregiver affects the health of the person with dementia," Berg says. "So even though the caregiver is not my patient, I spend a lot of time providing support and education to them. Because if we can reduce caregiver stress, it's better for the patient, and that's my primary responsibility."
The well-attended semiannual series of care partner workshops is scheduled to return in the spring. In addition to Berg's presentation on how to better understand Alzheimer's disease and other forms of dementia, presenters include an educator from the Alzheimer's Association to discuss communication and behavioral challenges, a local elder care attorney to discuss legal and financial issues, and UConn Health social worker Vicky Aldrich to discuss family dynamics, community resources, and keeping the caregiver healthy.
More information about the UConn Center on Aging is available at health.uconn.edu/aging.
November is Alzheimer's Awareness Month.
---