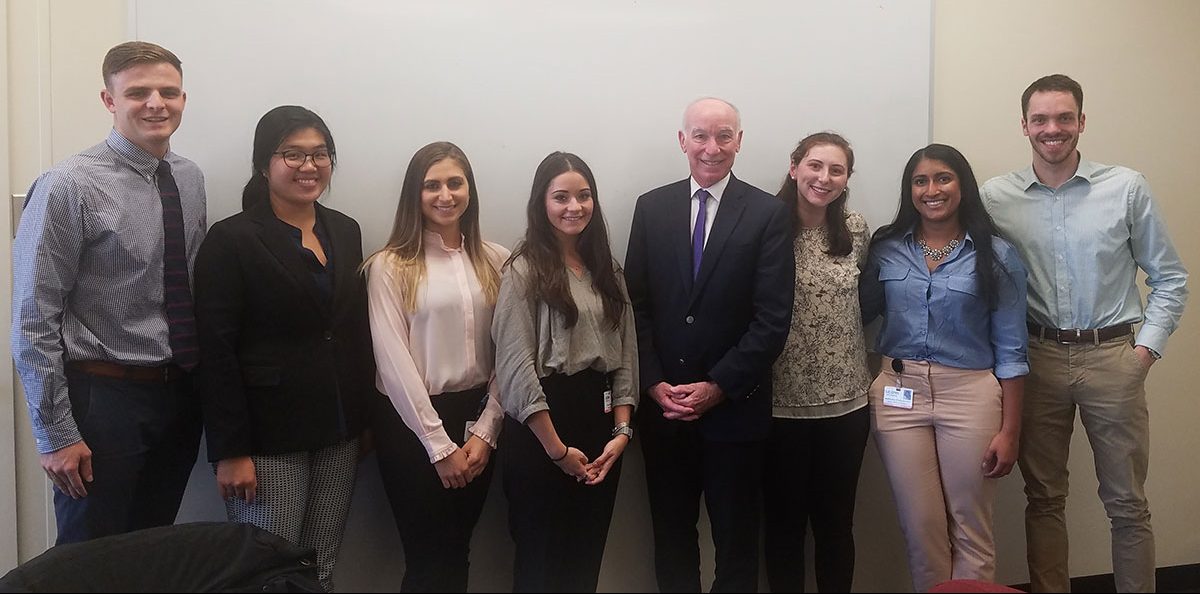 U.S. Rep. Joe Courtney recently came to UConn Health to meet with UConn dental student members of the American Student Dental Association (ASDA).
"He came to meet with us as ASDA aims to discuss legislative issues that pertain to us as current students and future health care providers," says Taleen Kalajian, a second-year dental student and UConn ASDA delegate. "We wanted to gain insight into what is currently being done at the Congressional level in order to pass different bills and raise awareness about current issues that have the potential to impact our education and future."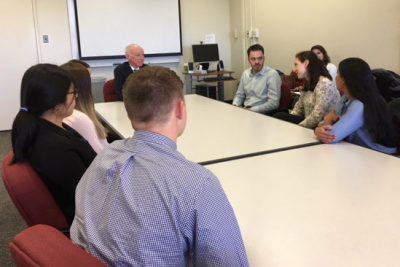 Chief among those issues is student debt. By some estimates the average American dental student graduates with nearly $300,000 in debt. Courtney, a senior member of the House Education and the Workforce Committee, discussed the Aim Higher Act, which his committee introduced in July. It's a reauthorization of previous legislation that would provide students with a chance to earn a debt-free degree.
"One pillar of the Aim Higher Act is to protect and expand public service loan forgiveness programs," says classmate Marina Zoghbi, a UConn ASDA legislative co-chair. "The Aim Higher Act also allows students to refinance high-interest loans to lower rates. I really appreciated that he is committed to advocating for students pursuing higher education."
The congressman held a roundtable with seven members of UConn's ASDA chapter: Zoghbi, Kalajian, Jessica Rudman, Mariamma Chaluparamabil, Eric Ress, Shiyuan Mao, and Cameron Christiansen. They met for about 30 minutes in the dental admissions office following a tour of the renovated dental care center and the simulation lab Oct. 18. Other topics of discussion included access to care and the opioid epidemic.
Chaluparamabil, the chapter's president, and Rudman, a legislative delegate, had invited Courtney to visit during an ADA lobbying engagement in Washington, D.C., in the spring. Because of scheduling conflicts, it took several months to orchestrate.
"He's very down-to-earth, really listens to problems, and you really feel like he's listening to you," Rudman says. "It can be nerve-wracking when you're meeting someone like this, but he makes you feel at ease and able to talk about the issues that are important to you. It really helped us be comfortable."
---