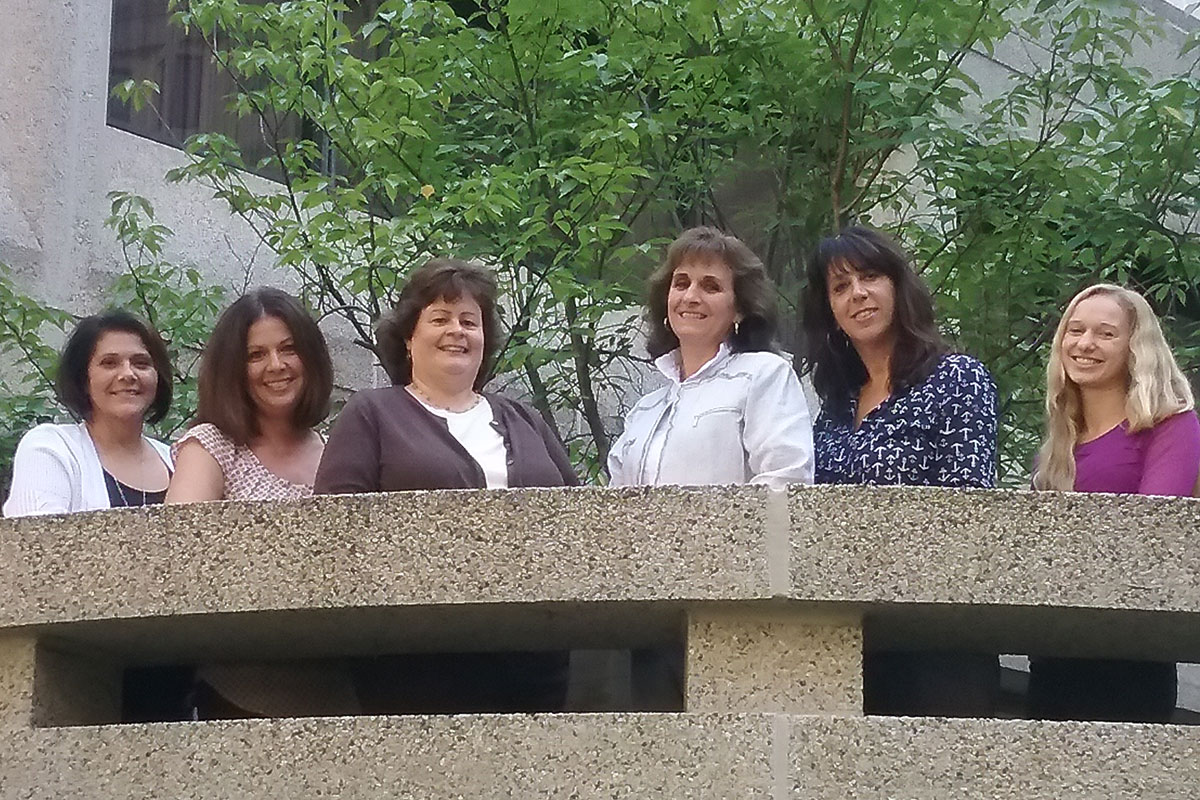 One of the reasons for the UConn John Dempsey Hospital's high marks in the latest Joint Commission survey is the work of the Office of Healthcare and Regulatory Compliance. Longtime UConn Health nurse and nurse administrator Deb Abromaitis serves as its interim compliance officer, and she credits her staff (and many others) for the successful visit. Today we get to know Deb a little better. She lives in Unionville with her husband, and has two grown sons and two grandchildren.
Deb Abromaitis
Favorite sport:
Figure skating
Favorite holiday:
Christmas. I love giving puzzles to my nieces, nephews and my children to figure out how to solve the puzzle to get a gift.
Favorite place(s) to visit:
Istanbul, Turkey. I also love to vacation in the Outer Banks with friends.
Favorite dining spot:
I love going out to different restaurants for breakfast on the weekend with my husband and friends.
Interest outside of work:
I always love and treasure spending time with my family.
Describe your role here, and how your roles have changed/evolved over the years?
I've been the Interim Compliance Officer in the Office of Healthcare and Regulatory Compliance for less than a year. The first time I worked at UConn Health was about 30 years ago, and I have been in many positions over the years, starting as a per diem nurse then a nursing supervisor, manager, and director.
Some of the areas where I have managed include the Nursing Supervisors, Bed Control, Float Pool, Transportation, Emergency Management, Environment of Care, Patient Relations, Volunteers, Spiritual Services, Interpreters, Quality and Regulatory.
When you were first starting as a nurse, if someone told you that you'd be a hospital compliance officer, how would you have reacted?
I would never have believed it! I love people and knew that as long as I was a nurse I would never be anywhere but at the bedside!
What are the most challenging and rewarding aspects of your job today?
The most challenging would be having others understand that we are trying to be helpful when we work with areas to meet the needs and regulatory requirements for the patients, the staff and the institution.
The most rewarding is watching patient care improve, staff pride and satisfaction grow, and the institution get recognized for the great work that we do and the care that we provide.
We recently had an unannounced accreditation survey by The Joint Commission. What goes into preparing for and dealing with that, and what made it successful?
In the hospital we say that we are always prepared for a survey. It's working hard every day to do everything possible to educate and train all staff to meet all regulations to provide the highest level of care to all patients.
What made it successful is the commitment of everyone at UConn Health to remain regulatory compliant and provide the highest level of care to our patients. We hear that it takes a village….and it truly does! There are so many employees who work very hard and are willing to do whatever they can to help have a positive impact on our survey. They are sincerely appreciated!
I don't want to name individuals as I know I would feel terrible about leaving out the many, many people who were instrumental in this success. I do need to recognize Dr. Agwunobi's constant support of the readiness process, including his commitment to securing repeated visits from The Joint Commission Resource consultants who helped us prepare for the actual survey. In addition, I do need to highlight:
My staff in the Office of Healthcare and Regulatory Compliance, who worked tirelessly for months training and obtaining all documents needed.
Senior leadership, who provided a plethora of time and support as well as vision.
Chapter leaders, who ensured compliance and readiness with Joint Commission standards.
Nursing and all staff who worked tirelessly to prepare their units and the entire hospital to be ready for the survey each day. Those who willingly spoke with Joint Commission surveyors and shared the positive aspects of what we do were terrific!
Support staff who assisted day in and day out as ambassadors, scribes, runners, drivers, catering, maintenance, facilities, housekeeping.
Everyone worked together to ensure we showed The Joint Commission the best of UConn John Demspey Hospital. The work of so many wonderful, dedicated staff made the entire survey an incredible success!
And when you're not working, you're often volunteering?
I love to volunteer, including being the opening ceremonies and figure skating competitions director and coordinator for the Connecticut Special Olympics for many years, volunteering on the Community Emergency Response Team (CERT), fundraising for the American Heart Association, and I'm very proud that I brought and chaired the first Relay for Life in Farmington!
Your family seems to have several connections with UConn basketball.
My husband played basketball at UConn (Jim Abromaitis, 1975-1980). My older son played basketball at Yale (Jason Abromaitis, 2003-2007), and married Ann Strother, who played basketball at UConn. They have two children, a 3-year-old boy and 1-year-old girl. My other son played basketball at Notre Dame (Tim Abromaitis, 2007-2012). I never played basketball, but was a UConn cheerleader.
---