Around the clock behind the scenes at UConn Health our telephone operators are handling an average of 2,100 phone calls a day during the week and an additional 700 daily calls on the weekend.
The team of 11 operators take shifts responding to a wide range of caller inquiries and supporting UConn Health's communication needs. Operators direct general inquiries, employee calls, patient calls, staff pages, and after-hour on-call phone pages for all clinical practices including dental medicine.
Also, the telephone operators are responsible for pushing out the critical overhead and phone pages for prompt medical response for UConn John Dempsey Hospital staff to respond to time-sensitive, life emergencies such as Code Blues requiring a patient's resuscitation and any stat anesthesia, obstetrics, or stroke patient need. In addition, they coordinate Voalte system messaging needs on the hospital floors.
"It's important for everyone to appreciate the critical role the operators play in our institution's operations," stresses Dr. Scott Allen, interim chief quality officer for UConn John Dempsey Hospital. "We could not succeed without them."
"Often times operators are the first contact someone may have with UConn Health, and those first impressions, are lasting impressions," says Annette Karabin, UMG Call Center's Training/Quality Assurance Coordinator. "The operators are a dedicated team that truly care about what they do."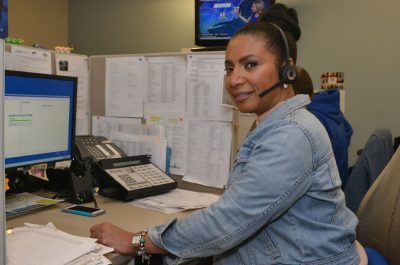 One of the many examples of the essential work of the operators on the frontlines is Pat Davis. Recently, the Patient Relations team received a telephone call from a UConn Health patient sharing his compliments about Pat and how she went above and beyond to help him.
"Excellent job, Pat, thank you for all that you do," shared Karabin. "I often hear Pat on the phone when the caller is obviously anxious or upset. She has a very calm and reassuring demeanor with helping them."
"Pat is very dedicated and thorough," said Milissa Woodward, director of ambulatory access initiatives. "All of our operators are this good. They always get the job done."
Woodward added: "Our group of operators are just incredible. I love working with them."
---