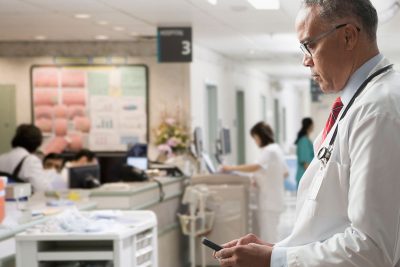 Did you know, some of the features of HealthONE will be accessible via smartphone? Two we'd like to mention here are Haiku and Imprivata ID.
Haiku is available to iPhone users who might like to take advantage of Patient Management, InBasket, Review and Ordering and ePrescribing functions on the go.
This is an optional package available to you should you find it helpful.
When you attend your provider training session, your will see a poster inviting you to send a registration/communication to HealthONEMobileApps@uchc.edu with your department and cell phone number if you have interest in accessing Haiku. This will go to the HealthONE team to initiate your access.
After that we will push the mobile app via MobileIron to your phone and, voila, with a few keystrokes you will be ready to go.
The push thru MobileIron makes it simple for us to ensure your configuration to our production server is accurate. Along with this push, you will receive a packet of information via email that will include some tip sheets to help you get jump-started. Once you have your Epic training, you will find it quite intuitive to use the app. No training classes will be needed!
Imprivata ID is a phone app that will enable you to receive a dual authentication factor code text message, required by state law beginning this year to support ePrescribing of controlled substances. The application will allow you to receive a text message and automatically with a single keystroke send that code into HealthONE, satisfying the elements needed to prescribe controlled substances.
You will be registered for this during your training class; however, the registration process could be shortened if you take a moment to download the iOS or Android application referred to as "Imprivata ID" prior to attending class. Please be sure to bring your phone with you to training.
Imprivata ID will work on iPhone or on Android and requires no MobileIron and no data fees. Easy peasy and convenient!
–Kathy Noel, Director, Ambulatory Applications, UConn HealthONE
Watch for additional HealthONE updates in Lifeline, in the Pulse, at uconnhealthexpress.uchc.edu/emr, and now on Twitter @UConnHealthONE.
---