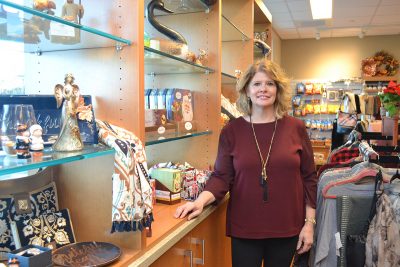 If you've been to the Connucopia Gift Shop, either in its old location in the main lobby, its current location on the University Tower mezzanine, or the kiosk in the Outpatient Pavilion, chances are you've exchanged smiles with Debbie Baril. Debbie has been managing the gift shop, which is part of the UConn Health Auxiliary, since 2006. She lives in Winsted with her husband, Marcel, and their two dogs, and has three grown children.
How has the first year been in the new location, on the mezzanine of the University Tower?
The gift shop was in the main lobby of the original hospital building for more than 35 years. The transition to the new building was both bittersweet and exciting. We loved our old location but we're now in a new, lovely, light-filled space. We are also lucky to have great neighbors, Starbucks!
How would you describe your customers?
We cater to visitors, patients, staff and students alike. I would estimate staff and students make up about 70 percent of our business at this time. We see fewer visitors and patients at the new location, but we're always thrilled when we can help them find that special gift or at least provide a place they can come, take a break, window shop and regroup. It's always humbling to receive a thank you note from a customer telling you how much you helped at a difficult time. We have many "regulars" who frequent the shop. We have everything from women who wait for the new apparel to arrive to get the best selection to staff who come in for their daily pack of gum. It's been a challenging road with the move, but our regulars have remained loyal.
Debbie Baril
Favorite musical:
"Aida"

Favorite musician:
James Taylor (Our annual Fourth of July tradition at Tanglewood!)

Favorite time of year:
Definitely the Christmas season. In our house it begins with caroling on Thanksgiving night and ending with a "new year around-the-world" party on New Year's Eve at my house with friends and family.

Favorite delicacy:
A recipe for gravlax given to me by a retired Connucopia volunteer. It has now become our annual "tree trimming" dinner.

Favorite vacation spot:
One of my favorite places on earth is Martha's Vineyard. We vacation there every year and now my children will continue the tradition when they have their own families.

What should people know about the kiosk in the Outpatient Pavilion?
In 2015 we opened a small satellite shop on the first floor of the Outpatient Pavilion. We staff that shop from 9 a.m. to 4 p.m. during the week and are closed at that location on the weekends. We carry a small selection of gifts, accessories, UConn products and edibles.
What is the connection with the UConn Health Auxiliary?
The Connucopia is owned by the UConn Health Auxiliary. All profits from the two Connucopia Gift Shops as well as the UConn Health Auxiliary Thrift Shop benefit the Auxiliary, which supports UConn Health in many ways. The shops are the major source of revenue for the Auxiliary, which also benefits from membership dues, special events and vendor sales. We host vendor sales on campus anywhere from one to as many as six times a week during the holiday months. We've recently been lucky enough to host two farm trucks, Harvest Bakery and Truffles Food Truck, thanks to Allan Peterson [director of Parking, Transportation and Event Services].
How do you staff the Gift Shop locations?
It takes six paid employees to staff both Connucopia shops. We have one paid employee on every shift including nights and weekends. We're fortunate to have the help of two to four volunteers per day. They assist in the main gift shop by waiting on customers, checking in and marking new products, as well as merchandising and restocking.
What's something about the Gift Shop most folks should know but probably don't?
Our merchandise updates constantly so our customers see something new at every visit. We've worked hard making the Connucopia into a mini department store. We sell everything from the new dress you need because you forgot about an after-work event, flowers, cards and gifts to brighten a patients room to UConn apparel to wear to the game. We stock a full array of sundries and tech accessories. We also carry books of stamps. As the Connucopia is not for profit, there is no sales tax charged!
---