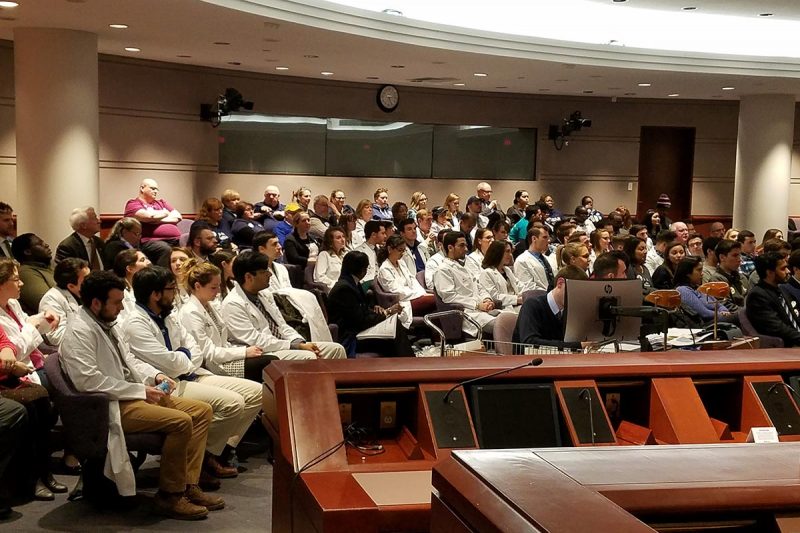 Last night in a show of solidarity against millions of dollars in proposed state budget cuts facing UConn and UConn Health, nearly 100 students, doctors, faculty and staff attended the Appropriations Committee hearings at the Legislative Office Building in Hartford.
UConn had several diverse panels of speakers sharing their personal perspectives with legislators about the detrimental impact any potential budget cuts could have on their education, research or care of patients.
UConn is currently facing up to $28 million in budget cuts while UConn Health is facing $13.2 million.
UConn Health's five-person panel discussion was kicked-off by Evan Woodford, a second-year student in the UConn School of Dental Medicine. He told the committee, "I worry what message will be sent to future students if that vital support needed to continue to provide their educations…is withdrawn. I urge you to minimize the amount of the proposed budget cuts in order to maintain our excellent progress."
Bayan Abunar, a second-year student in the UConn School of Medicine, testified, "It is through the state funds to UConn Health and your regular investments to our School of Medicine and Dental Medicine that have made it an affordable and accessible place for students of all faiths and ethnic backgrounds, including myself, to learn to be compassionate health care providers. I urge you to continue to invest in these entities by restoring funding to the FY16-17 level which provide tremendous benefit for the students, patients and Connecticut's economy."
Michel Gueret of Canton, a stage IV lung cancer survivor, also spoke about the cutting-edge and lifesaving immunotherapy clinical trial he had access to at UConn Health's Carole and Ray Neag Comprehensive Cancer Center.
"My survival, literally against all odds, is the real testimony," Gueret said. "It is evidence of what a research-driven UConn Health can and will continue to deliver to the people of Connecticut with your continued unwavering support. I thank each member of the committee for standing up to safeguard UConn Health. With your support–one day in the future–they will be there to save your life or that of your loved one in need, just like they saved my life."
Mark Driscoll, a biotech entrepreneur who started the company Shoreline Biome at UConn's Technology Incubation Program (TIP) in 2015, told the lamwakers, "UConn and UConn Health are vital components of the foundation of a robust ecosystem that is needed for the high tech life science businesses and industries of today to be successful. I urge you to consider that continued strong investment in UConn and UConn Health as part of our economic growth plan should remain a high priority as we look for long term solutions to our budget problems in Connecticut."
UConn Health researcher Caroline Dealy spoke about the various ways she serves the state as a UConn alumnus, UConn Health scientist, entrepreneur, business owner and educator of students.
"UConn needs resources for research so that scientists like me and others who are speaking tonight can continue to bring new knowledge into the world, while engaging in the process of discovery, the next generation of change-makers: UConn's students," Dealy said. "I urge you, please don't cut UConn's resources. It's just too important."
Earlier in the day UConn leadership, including President Susan Herbst and Dr. Andrew Agwunobi, UConn Health CEO and executive vice president for health affairs, also shared in-person testimony with the Committee.
"I ask for your support to protect the viability of your public academic health system and to do what you can to minimize cuts to UConn Health so that we can continue to deliver on the investments and provide Connecticut and its people with excellent service," shared Agwunobi.
---