It's open enrollment for people seeking health coverage under what's become known as "Obamacare," and that makes for a busy time for UConn Health's financial counselors.
The Patient Financial Services group gets involved when a "self-pay" patient – often someone without health insurance – comes to UConn Health for care.
"We'll screen them for a host of things, depending on income, family size, and if they don't qualify for HUSKY or Medicaid, then we'll go to Obamacare as an alternative," says John Resendes, who supervises six financial counselors. "Now that open enrollment is here, we're getting a lot more people now, and we will through January."
This is due in part to increased penalties –from $95 to $695– for not having health insurance and to an enrollment process that has become smoother –thanks to greater awareness, technical improvements, and access to financial counselors like Tanya Ledesma.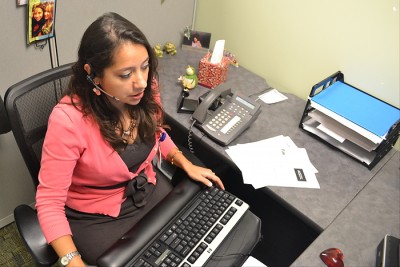 "Tanya has a lot of experience with the program, the eligibility requirements and all that," Resendes says.
Ledesma joined UConn Health early last year, hired for her expertise in Access Health CT, the state's health insurance marketplace. She helps patients understand the questions they may not know to ask.
"Being knowledgeable about your income is one of the biggest things, and also, what is your household composition, are you a tax dependent on your parents, for example," Ledesma says. "Instead of going into the initial low-monthly-premium, high-deductible plan, we're here to educate them, where if you pay $10 more that could make a huge difference on your deductible. That's what I'm seeing more of now."
Ledesma often finds herself on conference calls with the patient and Access Health CT.
"The most common mistake is that they're self-employed and they say what their gross income is, and that's not something you have to disclose," Ledesma says. "What you have to disclose is from Schedule C (income or loss from the business), so that makes a huge difference in the credits that they get."
The financial counselors work with patients by phone or in person, either in the office, or elsewhere on the UConn Health campus. They will meet patients at their appointments.
"What we do is, there are three different plans, we'll bring them all up and see which one is the best for you, or which providers are on that network," Resendes says. "We help the patient, we fill out all the paperwork."
The objective is to find ways to avoid unpaid medical bills, which ultimately helps both the patient and the clinical enterprise. John Dempsey Hospital receives no funding for charity care, and therefore provides this care at a loss. UConn Health has seen a 50 percent reduction in charity care grants since the implementation of the Affordable Care Act.
---