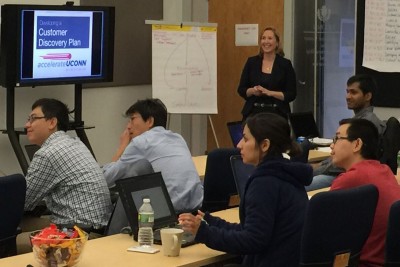 Accelerate UConn, a National Science Foundation (NSF) entrepreneurship program at UConn, has selected 10 faculty-student teams to receive seed grants and business training aimed at more quickly and successfully commercializing early-stage technologies developed at the University.
Accelerate UConn is one of the NSF's I-Corps sites, which are housed at academic institutions around the country. I-Corps is a key initiative established in 2011 to increase the volume of commercially viable technologies coming out of academic labs. The program provides a framework for entrepreneurial faculty, staff, and students to join with industry mentors and participate in special NSF-endorsed curriculum. Participants learn to assess the market potential of their technologies, and win funds to support early customer contact to validate concepts and market strategies.
"There is a wealth of technologies coming out of UConn labs that could be commercialized with the right set of tools," says UConn Vice President for Research Jeff Seemann. "Accelerate UConn allows early-stage ideas to move beyond the lab and join the ranks of other successful Connecticut startups."
Despite being a new initiative, many faculty and students with diverse backgrounds recently applied to be part of the program's first class in order to improve their chances of success, according to UConn business professor Timothy Folta, director of the Connecticut Center for Entrepreneurship and Innovation (CCEI).
"We are thrilled with the quality of both the applicants and their technologies," Folta says. "We're confident that the positive response to Accelerate UConn's initial application round attests to the program's value and a desire within the UConn community for additional entrepreneurial support."
The winning technologies are at varying degrees of development in several different industries. Some of the teams have already formed startup companies based on their technologies, while others may seek to develop licensing opportunities with existing industry. Among the winning teams: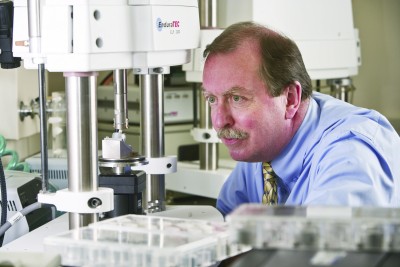 Oral Fluid Dynamics is commercializing an artificial salivary gland that provides a solution for patients suffering from a lack of salivary flow, and was developed by Dr. Robert Kelly, professor of reconstructive sciences at the UConn School of Dental Medicine.
3D Array Technology will leverage the program's educational component and seed funding to continue to develop a high performance, low cost catalytic converter based on nano-structured materials. This technology was developed in the lab of Puxian Gao, associate professor of materials science and engineering.
ParrotMD, a student startup developed through the University's Innovation Quest competition, is aimed at providing a solution for medication adherence in developing countries.
Other teams are still at the very initial stages of development, including those seeking to explore commercialization of innovations for:
composite materials
carbon nanotubes
scientific slide imaging
environmentally friendly flame retardants
topical skin treatment
surface sanitation
Each has the potential to become a successful startup according to the panel of industry experts who reviewed the applications. The program aims to make the road to successful commercialization a little less bumpy for all of the teams in Accelerate UConn's first class.
Accelerate UConn launched in May 2015, and is the only NSF I-Corps site in Connecticut. The program serves all of the UConn campuses, including UConn Health, and is jointly operated by the Office of the Vice President for Research and the Connecticut Center for Entrepreneurship and Innovation housed in the School of Business. Accelerate UConn supplements many other initiatives at UConn focused on commercialization, like the Technology Incubation Program, the CCEI Summer Fellowship Program, the construction of the UConn Tech Park at Storrs, and the growing relationship with The Jackson Laboratory for Genomic Medicine.
More information about Accelerate UConn is available at www.accelerate.uconn.edu.
–Jessica McBride
---