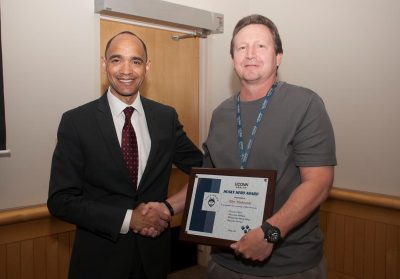 Allen Meckowski, a clinical coordinator in the UConn Health Department of Dermatology, has been recognized as a Husky Hero.
Meckowski is one of 23 UConn Health employees or volunteers who received a Human Resources PAWS award, which stands for:
Part of a team,
Awesome attitude,
Wonderful work ethic, and
Superior service.
PAWS awards honor those who consistently perform above and beyond the expectations of their job. Four-time PAWS recipients earn the distinction of Husky Hero.
HR's Pride in People subcommittee presented PAWS awards at a reception Thursday in the Onyiuke Dining Room:
Danielle Andrews, CMHC – Hartford – Medical
Ronald Arnone, Dermatology Clinic
Nancy Baccaro, Neag Comprehensive Cancer Center
Joan Blythe, Procedure Center Unit
Barbara Baron, Medicine 4
Barbara Bowman, Cardiology
Francis Couillard, Information Technology – Network Services
Charlene DeCampos, CMHC – MYI – Medical
Michael Deckers, Volunteer
Patricia Lane, UMG – Internal Medicine – Canton
Meghan Laughlan, Intensive Care Unit
Cindy Letavec, CMHC – Cheshire – Medical
Sean Macrae, CMHC – Osborn – Medical
Joan Montgomery, JDH – Organizational & Staff Development
Robert Ramonas, CMHC – Osborn – Medical
Jessica Reyes, Patient Access
Luann Satherlie, UMG – Administration
Jennifer St. Onge, Dermatology Clinic
Bryan Wasik, Dermatology Clinic
Robert Wilkie, Information Technology – Network Services
Heidi Whiteley, CMHC – MacDougal/Walker – Medical
Sohrab Zahedi, M.D, CMHC – Hartford – Mental Health
---